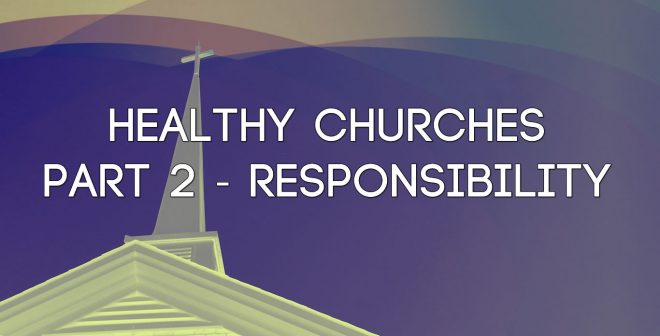 1. Healthy churches value responsibility.
Priority
Let us hold unswervingly to the hope we profess, for he who promised is faithful. And let us consider how we may spur one another on toward love and good deeds, not giving up meeting together, as some are in the habit of doing, but encouraging one another—and all the more as you see the Day approaching. Hebrews 10:23-25
Privilege
Perseverance
2. Healthy churches share the responsibilities among their members…
A. By praying for growth,
Paul, Silas and Timothy, To the church of the Thessalonians in God the Father and the Lord Jesus Christ: Grace and peace to you. We always thank God for all of you and continually mention you in our prayers. 1 Thessalonians 1:1-2
Paul and Timothy, servants of Christ Jesus, To all God's holy people in Christ Jesus at Philippi, together with the overseers and deacons: Grace and peace to you from God our Father and the Lord Jesus Christ. I thank my God every time I remember you. In all my prayers for all of you, I always pray with joy because of your partnership in the gospel from the first day until now, being confident of this, that he who began a good work in you will carry it on to completion until the day of Christ Jesus. It is right for me to feel this way about all of you, since I have you in my heart and, whether I am in chains or defending and confirming the gospel, all of you share in God's grace with me. God can testify how I long for all of you with the affection of Christ Jesus. And this is my prayer: that your love may abound more and more in knowledge and depth of insight, so that you may be able to discern what is best and may be pure and blameless for the day of Christ, filled with the fruit of righteousness that comes through Jesus Christ—to the glory and praise of God. Philippians 1:1-11
B. By inviting the un-churched to attend,
Then the master told his servant, "Go out to the roads and country lanes and compel them to come in, so that my house will be full." Luke 14:23
C. By warmly welcoming those who attend.
Accept one another, then, just as Christ accepted you, in order to bring praise to God. Romans 15:7
3. Healthy churches see responsibility as a joy and not a burden.
Now the tax collectors and sinners were all gathering around to hear Jesus. But the Pharisees and the teachers of the law muttered, "This man welcomes sinners and eats with them."
Then Jesus told them this parable: "Suppose one of you has a hundred sheep and loses one of them. Doesn't he leave the ninety-nine in the open country and go after the lost sheep until he finds it? And when he finds it, he joyfully puts it on his shoulders and goes home. Then he calls his friends and neighbors together and says, 'Rejoice with me; I have found my lost sheep.' I tell you that in the same way there will be more rejoicing in heaven over one sinner who repents than over ninety-nine righteous persons who do not need to repent. Luke 15:1-7