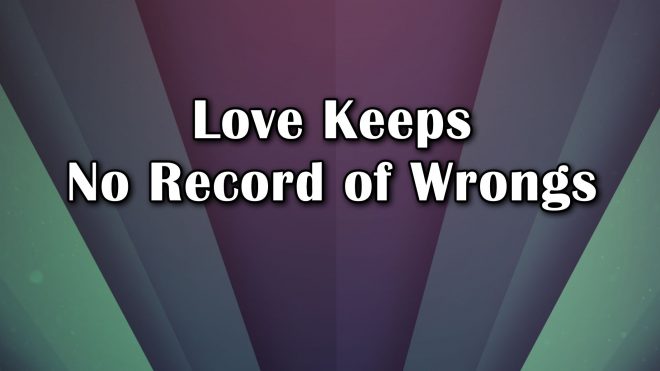 1. What does it mean?
5 (Love) does not dishonor others, it is not self-seeking, it is not easily angered, it keeps no record of wrongs. 1 Corinthians 13:5
17 "…do not plot evil against each other, and do not love to swear falsely. I hate all this," declares the LORD. Zechariah 8:17
19 …that God was reconciling the world to himself in Christ, not counting people's sins against them. And he has committed to us the message of reconciliation. 2 Corinthians 5:19
2. What it does not mean.
2 The teachers of the law and the Pharisees sit in Moses' seat. 3 So you must be careful to do everything they tell you. But do not do what they do, for they do not practice what they preach. Matthew 23:2-3
12 And I saw the dead, great and small, standing before the throne, and books were opened. Another book was opened, which is the book of life. The dead were judged according to what they had done as recorded in the books. Revelation 20:12
14 Alexander the metalworker did me a great deal of harm. The Lord will repay him for what he has done. 2 Timothy 4:14
3. Forgiving and forgetting.
12 …as far as the east is from the west, so far has he removed our transgressions from us. Psalm 103:12
12 For I will forgive their wickedness and will remember their sins no more. Hebrews 8:12
13 Nothing in all creation is hidden from God's sight. Everything is uncovered and laid bare before the eyes of him to whom we must give account. Hebrews 4:13
4. Like father, unlike son.
27 'Your brother has come,' he replied, 'and your father has killed the fattened calf because he has him back safe and sound.' 28 "The older brother became angry and refused to go in. So his father went out and pleaded with him. Luke 15:27-28
36 Be merciful, just as your Father is merciful. Luke 6:36
4 Forgive us our sins, for we also forgive everyone who sins against us. And lead us not into temptation. Luke 11:4
5. Like father, like son.
18 I will set out and go back to my father and say to him: Father, I have sinned against heaven and against you. 19 I am no longer worthy to be called your son; make me like one of your hired servants.' 20 So he got up and went to his father. "But while he was still a long way off, his father saw him and was filled with compassion for him; he ran to his son, threw his arms around him and kissed him. Luke 15:18-20
34 Jesus said, "Father, forgive them, for they do not know what they are doing." And they divided up his clothes by casting lots. Luke 23:34
32 But now, please forgive their sin—but if not, then blot me out of the book you have written." Exodus 32:32
59 While they were stoning him, Stephen prayed, "Lord Jesus, receive my spirit." 60 Then he fell on his knees and cried out, "Lord, do not hold this sin against them." When he had said this, he fell asleep. Acts 7:59-60
13 Bear with each other and forgive one another if any of you has a grievance against someone. Forgive as the Lord forgave you. 14 And over all these virtues put on love, which binds them all together in perfect unity. Colossians 3:13-14