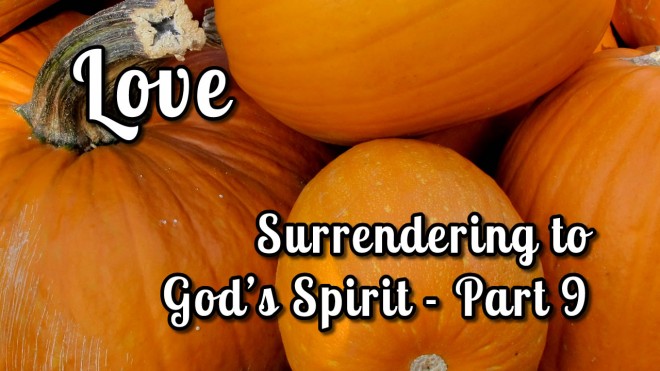 1. Love is supreme in the Scriptures.
And now these three remain: faith, hope and love. But the greatest of these is love. 1 Corinthians 13:13
But the fruit of the Spirit is love, joy, peace, patience, kindness, goodness, faithfulness, gentleness and self-control. Against such things there is no law. Galatians 5:22-23
Love is patient, love is kind. It does not envy, it does not boast, it is not proud. It is not rude, it is not self-seeking, it is not easily angered, it keeps no record of wrongs. Love does not delight in evil but rejoices with the truth. It always protects, always trusts, always hopes, always perseveres. 1 Corinthians 13:4-7
2. Love sums up Gods ideal expectation for our lives.
"The most important one," answered Jesus, "is this: 'Hear, O Israel, the Lord our God, the Lord is one. Love the Lord your God with all your heart and with all your soul and with all your mind and with all your strength.' The second is this: 'Love your neighbor as yourself.' There is no commandment greater than these." Mark 12:29-31
Hearing that Jesus had silenced the Sadducees, the Pharisees got together. One of them, an expert in the law, tested him with this question: "Teacher, which is the greatest commandment in the Law?" Jesus replied: " 'Love the Lord your God with all your heart and with all your soul and with all your mind.' This is the first and greatest commandment. And the second is like it: 'Love your neighbor as yourself.' All the Law and the Prophets hang on these two commandments." Matthew 22:34-40
You, my brothers, were called to be free. But do not use your freedom to indulge the sinful nature; rather, serve one another in love. The entire law is summed up in a single command: "Love your neighbor as yourself." If you keep on biting and devouring each other, watch out or you will be destroyed by each other. Galatians 5:13-15
Love does no harm to its neighbor. Therefore love is the fulfillment of the law. Romans 13:10
Above all, love each other deeply, because love covers over a multitude of sins. 1Peter 4:8
3. Love shows it's sincerity through sacrifice ad service exemplified by God's Son.
Love must be sincere. Hate what is evil; cling to what is good. Romans 12:9
For God so loved the world that he gave his one and only Son, that whoever believes in him shall not perish but have eternal life. John 3:16
Greater love has no one than this, that he lay down his life for his friends. John 15:13
This is how we know what love is: Jesus Christ laid down his life for us. And we ought to lay down our lives for our brothers. If anyone has material possessions and sees his brother in need but has no pity on him, how can the love of God be in him? Dear children, let us not love with words or tongue but with actions and in truth. 1 John 3:16-18
But God demonstrates his own love for us in this: While we were still sinners, Christ died for us. Romans 5:8
Husbands, love your wives, just as Christ loved the church and gave himself up for her to make her holy, cleansing her by the washing with water through the word, and to present her to himself as a radiant church, without stain or wrinkle or any other blemish, but holy and blameless. In this same way, husbands ought to love their wives as their own bodies. He who loves his wife loves himself. After all, no one ever hated his own body, but he feeds and cares for it, just as Christ does the church– for we are members of his body. "For this reason a man will leave his father and mother and be united to his wife, and the two will become one flesh." This is a profound mystery–but I am talking about Christ and the church. However, each one of you also must love his wife as he loves himself, and the wife must respect her husband. Ephesians 5:25-33
Be completely humble and gentle; be patient, bearing with one another in love. Make every effort to keep the unity of the Spirit through the bond of peace. Ephesians 4:2-3
If you have any encouragement from being united with Christ, if any comfort from his love, if any fellowship with the Spirit, if any tenderness and compassion, then make my joy complete by being like-minded, having the same love, being one in spirit and purpose. Philippians 2:1-2
4. Love has it's source in God and support in His Spirit.
Dear friends, let us love one another, for love comes from God. Everyone who loves has been born of God and knows God. Whoever does not love does not know God, because God is love. This is how God showed his love among us: He sent his one and only Son into the world that we might live through him. This is love: not that we loved God, but that he loved us and sent his Son as an atoning sacrifice for our sins. Dear friends, since God so loved us, we also ought to love one another. No one has ever seen God; but if we love one another, God lives in us and his love is made complete in us. 1 John 4:7-12
We know that we live in him and he in us, because he has given us of his Spirit. And we have seen and testify that the Father has sent his Son to be the Savior of the world. If anyone acknowledges that Jesus is the Son of God, God lives in him and he in God. And so we know and rely on the love God has for us. God is love. Whoever lives in love lives in God, and God in him. In this way, love is made complete among us so that we will have confidence on the day of judgment, because in this world we are like him. There is no fear in love. But perfect love drives out fear, because fear has to do with punishment. The one who fears is not made perfect in love. We love because he first loved us. If anyone says, "I love God," yet hates his brother, he is a liar. For anyone who does not love his brother, whom he has seen, cannot love God, whom he has not seen. 1 John 4:13-20
So I say, live by the Spirit, and you will not gratify the desires of the sinful nature. Galatians 5:16
Praise the LORD. Give thanks to the LORD, for he is good; his love endures forever. Psalm 106:1
Let them give thanks to the LORD for his unfailing love and his wonderful deeds for men, for he satisfies the thirsty and fills the hungry with good things. Psalm 107:8
Give thanks to the LORD, for he is good; his love endures forever. 1 Chronicles 16:34