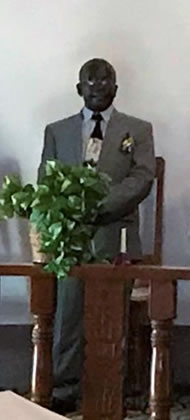 WE ARE ALL IN THIS TOGETHER
An evening of hope, prayer, and testimony to God's power and glory as Pastor Pierre shares his lifelong vision and personal testimony of how God has used him to provide hope and solution in La Croix, Perisse Haiti.
Vaugelas Pierre was born in the north of Haiti, he knows personally the gnawing pangs of hunger and the destructive power of the vodou culture in Haiti. Pierre, as most call him shares his testimony to what God can do with obedience, prayer, and vision in fulfilling His promise in La Croix. Pastor Pierre's testimony is personal and powerful…one you will not want to miss. Pierre speaks the truth of God's word, combined with an infectious sense of humor. Pastor and his wife, Ermithe Pierre have provided a living solution in La Croix that would do well to be repeated throughout all of Haiti! Don't miss this free, public event!
Saturday, July 20, 2019 : 6:30 PM
317 Oriskany Blvd, Whitesboro, NY 13492
…for more information contact… 
Crosspoint Church @315.797.4520