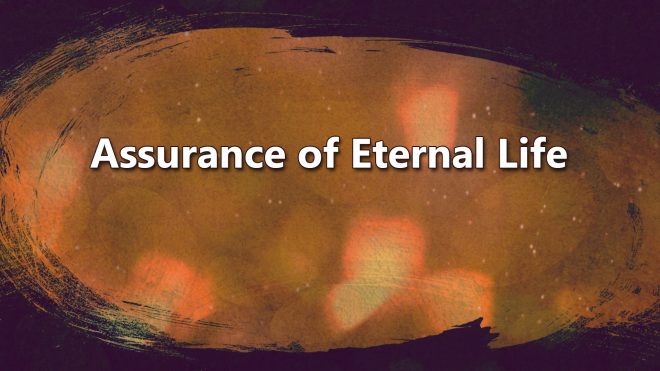 1. Assurance of salvation.
Acts 3:19
Repent, then, and turn to God, so that your sins may be wiped out, that times of refreshing may come from the Lord, …
Ephesians 2:8-9
For it is by grace you have been saved, through faith—and this is not from yourselves, it is the gift of God— not by works, so that no one can boast.
Romans 10:9-10
If you declare with your mouth, "Jesus is Lord," and believe in your heart that God raised him from the dead, you will be saved. For it is with your heart that you believe and are justified, and it is with your mouth that you profess your faith and are saved.
Romans 10:13
…for, "Everyone who calls on the name of the Lord will be saved."
Luke 10:20
However, do not rejoice that the spirits submit to you, but rejoice that your names are written in heaven."
2. Assurance of perseverance.
John 10:27-30
My sheep listen to my voice; I know them, and they follow me. I give them eternal life, and they shall never perish; no one will snatch them out of my hand. My Father, who has given them to me, is greater than all; no one can snatch them out of my Father's hand. I and the Father are one."
Mark 13:13
Everyone will hate you because of me, but the one who stands firm to the end will be saved.
Romans 8:37
No, in all these things we are more than conquerors through him who loved us.
Revelation 12:11
They triumphed over him by the blood of the Lamb and by the word of their testimony, they did not love their lives so much as to shrink from death.
3. Assurance of heaven.
John 14:1-4
"Do not let your hearts be troubled. You believe in God; believe also in me. My Father's house has many rooms; if that were not so, would I have told you that I am going there to prepare a place for you? And if I go and prepare a place for you, I will come back and take you to be with me that you also may be where I am. You know the way to the place where I am going."
Luke 23:43
Jesus answered him, "Truly I tell you, today you will be with me in paradise."