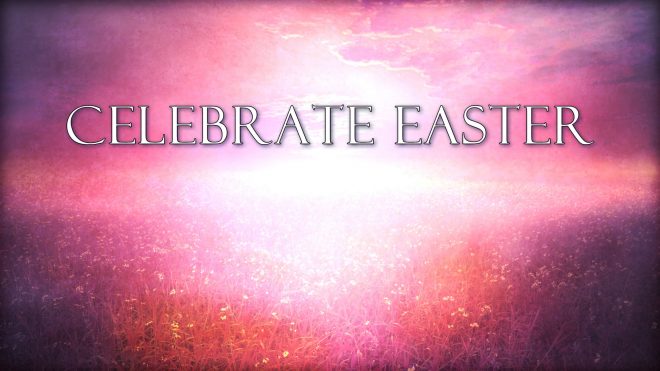 1. Celebrate the empty tomb.
"Take a guard," Pilate answered. "Go, make the tomb as secure as you know how." So they went and made the tomb secure by putting a seal on the stone and posting the guard. Matthew 27:65-66
As they entered the tomb, they saw a young man dressed in a white robe sitting on the right side, and they were alarmed. "Don't be alarmed," he said. "You are looking for Jesus the Nazarene, who was crucified. He has risen! He is not here. See the place where they laid him. But go, tell his disciples and Peter, 'He is going ahead of you into Galilee. There you will see him, just as he told you.' " Mark 16:5-7
2. Celebrate the transforming power of the resurrection.
On the evening of that first day of the week, when the disciples were together, with the doors locked for fear of the Jewish leaders, Jesus came and stood among them and said, "Peace be with you!" After he said this, he showed them his hands and side. The disciples were overjoyed when they saw the Lord. Again Jesus said, "Peace be with you! As the Father has sent me, I am sending you." John 20:19-21
For what I received I passed on to you as of first importance : that Christ died for our sins according to the Scriptures, that he was buried, that he was raised on the third day according to the Scriptures, and that he appeared to Cephas, and then to the Twelve. After that, he appeared to more than five hundred of the brothers and sisters at the same time, most of whom are still living, though some have fallen asleep. Then he appeared to James, then to all the apostles, and last of all he appeared to me also, as to one abnormally born. 1 Corinthians 15:3-8
If only for this life we have hope in Christ, we are of all people most to be pitied. But Christ has indeed been raised from the dead, the firstfruits of those who have fallen asleep. 1 Corinthians 15:19-20
With great power the apostles continued to testify to the resurrection of the Lord Jesus. And God's grace was so powerfully at work in them all … Acts 4:33
Praise be to the God and Father of our Lord Jesus Christ! In his great mercy he has given us new birth into a living hope through the resurrection of Jesus Christ from the dead, … 1 Peter 1:3
3. Celebrate the glorious task of the church.
For Christ's love compels us, because we are convinced that one died for all, and therefore all died. And he died for all, that those who live should no longer live for themselves but for him who died for them and was raised again. So from now on we regard no one from a worldly point of view. Though we once regarded Christ in this way, we do so no longer. Therefore, if anyone is in Christ, the new creation has come: The old has gone, the new is here! All this is from God, who reconciled us to himself through Christ and gave us the ministry of reconciliation: that God was reconciling the world to himself in Christ, not counting people's sins against them. And he has committed to us the message of reconciliation. 2 Corinthians 5:14-19
"Therefore go and make disciples of all nations, baptizing them in the name of the Father and of the Son and of the Holy Spirit, and teaching them to obey everything I have commanded you. And surely I am with you always, to the very end of the age." Matthew 28:19
Jesus said to her, "I am the resurrection and the life. The one who believes in me will live, even though they die; and whoever lives by believing in me will never die. Do you believe this?" John 11:25-26
After the Lord Jesus had spoken to them, he was taken up into heaven and he sat at the right hand of God. Then the disciples went out and preached everywhere, and the Lord worked with them and confirmed his word by the signs that accompanied it. Mark 16:19-20