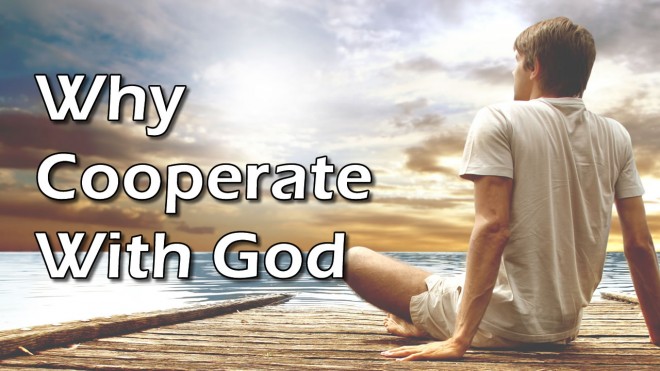 1. Cooperation is God's chosen method to get His work done.
In the beginning God created the heavens and the earth. Genesis 1:1
Then God said, "Let us make man in our image, in our likeness, and let them rule over the fish of the sea and the birds of the air, over the livestock, over all the earth, and over all the creatures that move along the ground." Genesis 1:26
All this is from God, who reconciled us to himself through Christ and gave us the ministry of reconciliation: that God was reconciling the world to himself in Christ, not counting men's sins against them. And he has committed to us the message of reconciliation. 2 Corinthians 5:18-19
2. Cooperation is the better way to get our work done.
Two are better than one, because they have a good return for their work: If one falls down, his friend can help him up. But pity the man who falls and has no one to help him up! Also, if two lie down together, they will keep warm. But how can one keep warm alone? Though one may be overpowered, two can defend themselves. A cord of three strands is not quickly broken. Ecclesiastes 4:9-12
A. It's the best way to grow spiritually.
"I am the vine; you are the branches. If a man remains in me and I in him, he will bear much fruit; apart from me you can do nothing. If anyone does not remain in me, he is like a branch that is thrown away and withers; such branches are picked up, thrown into the fire and burned. If you remain in me and my words remain in you, ask whatever you wish, and it will be given you. This is to my Father's glory, that you bear much fruit, showing yourselves to be my disciples. "As the Father has loved me, so have I loved you. Now remain in my love. If you obey my commands, you will remain in my love, just as I have obeyed my Father's commands and remain in his love. John 15:5-10
B. Its the best way to order our marriages and homes.
Submit to one another out of reverence for Christ. Wives, submit to your husbands as to the Lord. Ephesians 5:21-22
Children, obey your parents in the Lord, for this is right. "Honor your father and mother"–which is the first commandment with a promise– "that it may go well with you and that you may enjoy long life on the earth." Ephesians 6:1-3
C. It's the best way to work at our jobs.
Slaves, obey your earthly masters with respect and fear, and with sincerity of heart, just as you would obey Christ. Obey them not only to win their favor when their eye is on you, but like slaves of Christ, doing the will of God from your heart. Serve wholeheartedly, as if you were serving the Lord, not men, because you know that the Lord will reward everyone for whatever good he does, whether he is slave or free. And masters, treat your slaves in the same way. Do not threaten them, since you know that he who is both their Master and yours is in heaven, and there is no favoritism with him. Ephesians 6:5-9
D. It's the best way to work in our churches.
The body is a unit, though it is made up of many parts; and though all its parts are many, they form one body. So it is with Christ. 1 Corinthians 12:12
3. Cooperation is the best way to fulfill the Great Commission.
Therefore go and make disciples of all nations, baptizing them in the name of the Father and of the Son and of the Holy Spirit, and teaching them to obey everything I have commanded you. And surely I am with you always, to the very end of the age. Matthew 28:19-20