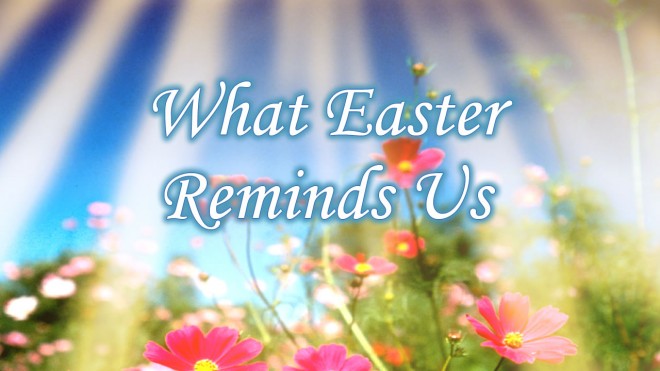 1. Nothing is impossible with God.
"How can this happen?" Mary asked the angel. "I am a virgin." The angel answered, "The Holy Spirit will come to you. The power of the Most High God will cover you. So the holy one that is born will be called the Son of God. Your relative Elizabeth is old. And even she is going to have a child. People thought she could not have children. But she has been pregnant for six months now. Nothing is impossible with God." Luke 1:34-37
On the first day of the week, very early in the morning, the women took the spices they had prepared and went to the tomb. They found the stone rolled away from the tomb, but when they entered, they did not find the body of the Lord Jesus. While they were wondering about this, suddenly two men in clothes that gleamed like lightning stood beside them. In their fright the women bowed down with their faces to the ground, but the men said to them, "Why do you look for the living among the dead? He is not here; he has risen! Remember how he told you, while he was still with you in Galilee: 'The Son of Man must be delivered over to the hands of sinners, be crucified and on the third day be raised again.' " Then they remembered his words. Luke 24:1-8
But if it is preached that Christ has been raised from the dead, how can some of you say that there is no resurrection of the dead? If there is no resurrection of the dead, then not even Christ has been raised. And if Christ has not been raised, our preaching is useless and so is your faith. More than that, we are then found to be false witnesses about God, for we have testified about God that he raised Christ from the dead. But he did not raise him if in fact the dead are not raised. For if the dead are not raised, then Christ has not been raised either. And if Christ has not been raised, your faith is futile; you are still in your sins. Then those also who have fallen asleep in Christ are lost. If only for this life we have hope in Christ, we are of all people most to be pitied. But Christ has indeed been raised from the dead, the firstfruits of those who have fallen asleep. 1 Corinthians 15:12-20
A certain ruler asked him, "Good teacher, what must I do to inherit eternal life?" "Why do you call me good?" Jesus answered. "No one is good—except God alone. You know the commandments: 'You shall not commit adultery, you shall not murder, you shall not steal, you shall not give false testimony, honor your father and mother.'" "All these I have kept since I was a boy," he said. When Jesus heard this, he said to him, "You still lack one thing. Sell everything you have and give to the poor, and you will have treasure in heaven. Then come, follow me." When he heard this, he became very sad, because he was very wealthy. Jesus looked at him and said, "How hard it is for the rich to enter the kingdom of God! Indeed, it is easier for a camel to go through the eye of a needle than for someone who is rich to enter the kingdom of God." Those who heard this asked, "Who then can be saved?" Jesus replied, "What is impossible with man is possible with God." Peter said to him, "We have left all we had to follow you!" "Truly I tell you," Jesus said to them, "no one who has left home or wife or brothers or sisters or parents or children for the sake of the kingdom of God will fail to receive many times as much in this age, and in the age to come eternal life." Luke 18:18-30
He replied, "Because you have so little faith. Truly I tell you, if you have faith as small as a mustard seed, you can say to this mountain, 'Move from here to there,' and it will move. Nothing will be impossible for you." When they came together in Galilee, he said to them, "The Son of Man is going to be delivered into the hands of men. Matthew 17:20-22
2. The Great Commission still stands.
Then Jesus came to them and said, "All authority in heaven and on earth has been given to me. Therefore go and make disciples of all nations, baptizing them in the name of the Father and of the Son and of the Holy Spirit, and teaching them to obey everything I have commanded you. And surely I am with you always, to the very end of the age." Matthew 28:18-20
On one occasion, while he was eating with them, he gave them this command: "Do not leave Jerusalem, but wait for the gift my Father promised, which you have heard me speak about. For John baptized with water, but in a few days you will be baptized with the Holy Spirit." Then they gathered around him and asked him, "Lord, are you at this time going to restore the kingdom to Israel?" He said to them: "It is not for you to know the times or dates the Father has set by his own authority. But you will receive power when the Holy Spirit comes on you; and you will be my witnesses in Jerusalem, and in all Judea and Samaria, and to the ends of the earth." After he said this, he was taken up before their very eyes, and a cloud hid him from their sight. They were looking intently up into the sky as he was going, when suddenly two men dressed in white stood beside them. Acts 1:4-10