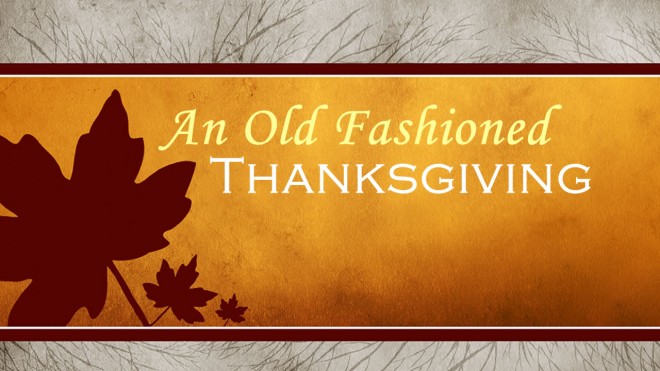 Old Testament expressions of gratitude in worship.
Personal and National deliverance.
I will give you thanks in the great assembly;
    among the throngs I will praise you.   Psalm 35:18    (Read Psalm 35)
…but you give us victory over our enemies,
    you put our adversaries to shame.
8 In God we make our boast all day long,
    and we will praise your name forever. Psalm 44:7-8 
God's Faithfulness
Enter his gates with thanksgiving
    and his courts with praise;
    give thanks to him and praise his name.
5 For the Lord is good and his love endures forever;
    his faithfulness continues through all generations.   Psalm 100:4-5
God's Forgiveness
Sing the praises of the Lord, you his faithful people;
    praise his holy name.
5 For his anger lasts only a moment,
    but his favor lasts a lifetime;
weeping may stay for the night,
    but rejoicing comes in the morning.   Psalm 30:4-5
In that day you will say:
"I will praise you, Lord.
    Although you were angry with me,
your anger has turned away
    and you have comforted me.
2 Surely God is my salvation;
    I will trust and not be afraid.
The Lord, the Lord himself, is my strength and my defense;
    he has become my salvation."
3 With joy you will draw water
    from the wells of salvation.
4 In that day you will say:
"Give praise to the Lord, proclaim his name;
    make known among the nations what he has done,
    and proclaim that his name is exalted.  Isaiah 12:1-4
4. All creation offers thanks to God.
The Lord is gracious and compassionate,
    slow to anger and rich in love.
9 The Lord is good to all;
    he has compassion on all he has made.
10 All your works praise you, Lord;
    your faithful people extol you.
11 They tell of the glory of your kingdom
    and speak of your might,
12 so that all people may know of your mighty acts
    and the glorious splendor of your kingdom.
13 Your kingdom is an everlasting kingdom,
    and your dominion endures through all generations.
The Lord is trustworthy in all he promises
    and faithful in all he does.   Psalm 145:8-13