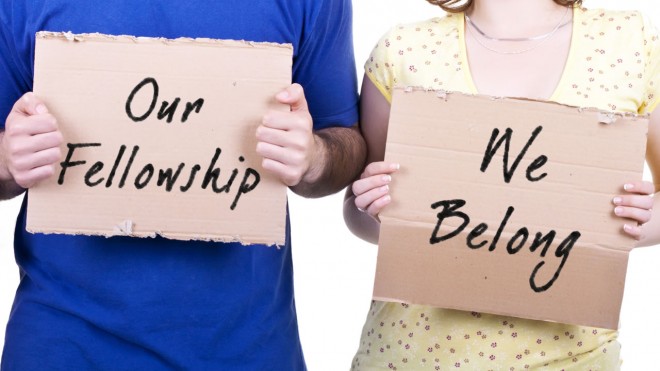 They devoted themselves to the apostles' teaching and to the fellowship, to the breaking of bread and to prayer. Acts 2:42
1. We belong to God.
Praise be to the God and Father of our Lord Jesus Christ, who has blessed us in the heavenly realms with every spiritual blessing in Christ. For he chose us in him before the creation of the world to be holy and blameless in his sight. In love he predestined us to be adopted as his sons through Jesus Christ, in accordance with his pleasure and will– to the praise of his glorious grace, which he has freely given us in the One he loves. Ephesians 1:3-6
In him we have redemption through his blood, the forgiveness of sins, in accordance with the riches of God's grace that he lavished on us with all wisdom and understanding. And he made known to us the mystery of his will according to his good pleasure, which he purposed in Christ, to be put into effect when the times will have reached their fulfillment–to bring all things in heaven and on earth together under one head, even Christ. Ephesians 1:7-10
In him we were also chosen, having been predestined according to the plan of him who works out everything in conformity with the purpose of his will, in order that we, who were the first to hope in Christ, might be for the praise of his glory. And you also were included in Christ when you heard the word of truth, the gospel of your salvation. Having believed, you were marked in him with a seal, the promised Holy Spirit, who is a deposit guaranteeing our inheritance until the redemption of those who are God's possession–to the praise of his glory. Ephesians 1:11-14
2. We belong to each other.
That which was from the beginning, which we have heard, which we have seen with our eyes, which we have looked at and our hands have touched–this we proclaim concerning the Word of life. The life appeared; we have seen it and testify to it, and we proclaim to you the eternal life, which was with the Father and has appeared to us. We proclaim to you what we have seen and heard, so that you also may have fellowship with us. And our fellowship is with the Father and with his Son, Jesus Christ. We write this to make our joy complete. 1 John 1:1-4
This is the message we have heard from him and declare to you: God is light; in him there is no darkness at all. If we claim to have fellowship with him yet walk in the darkness, we lie and do not live by the truth. But if we walk in the light, as he is in the light, we have fellowship with one another, and the blood of Jesus, his Son, purifies us from all sin. If we claim to be without sin, we deceive ourselves and the truth is not in us. If we confess our sins, he is faithful and just and will forgive us our sins and purify us from all unrighteousness. If we claim we have not sinned, we make him out to be a liar and his word has no place in our lives. 1 John 1:5-10
The body is a unit, though it is made up of many parts; and though all its parts are many, they form one body. So it is with Christ. For we were all baptized by one Spirit into one body–whether Jews or Greeks, slave or free–and we were all given the one Spirit to drink. Now the body is not made up of one part but of many. If the foot should say, "Because I am not a hand, I do not belong to the body," it would not for that reason cease to be part of the body.
And if the ear should say, "Because I am not an eye, I do not belong to the body," it would not for that reason cease to be part of the body. If the whole body were an eye, where would the sense of hearing be? If the whole body were an ear, where would the sense of smell be? But in fact God has arranged the parts in the body, every one of them, just as he wanted them to be. 1 Corinthians 12:12-18