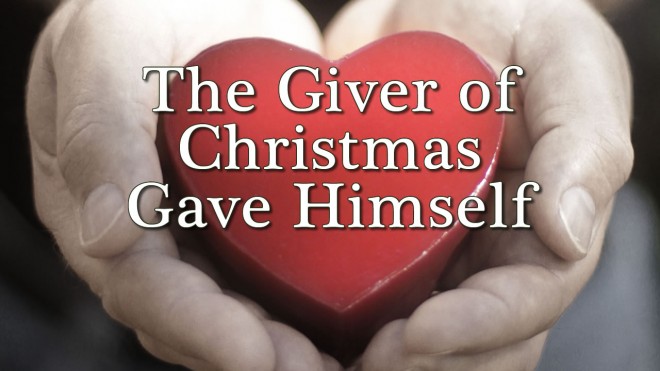 The giver of Christmas gave Himself to honor us with His presence.
In the beginning was the Word, and the Word was with God, and the Word was God. John 1:1
 The Word became flesh and made his dwelling among us. We have seen his glory, the glory of the one and only Son, who came from the Father, full of grace and truth. John 1:14
For to us a child is born,
    to us a son is given,
    and the government will be on his shoulders.
And he will be called
    Wonderful Counselor, Mighty God,
    Everlasting Father, Prince of Peace.  Isaiah 9:6
In your relationships with one another, have the same mindset as Christ Jesus:
Who, being in very nature God,
    did not consider equality with God something to be used to his own advantage;
rather, he made himself nothing
    by taking the very nature of a servant,
    being made in human likeness.
And being found in appearance as a man,
    he humbled himself
    by becoming obedient to death—
        even death on a cross!  Philippians 2:5-8
Therefore the Lord himself will give you a sign: The virgin will conceive and give birth to a son, and will call him Immanuel. Isaiah 7:14
"The virgin will conceive and give birth to a son, and they will call him Immanuel" (which means "God with us"). Matthew 1:23
The giver of Christmas gave Himself to help us with our problems.
The thief comes only to steal and kill and destroy; I have come that they may have life, and have it to the full. "I am the good shepherd. The good shepherd lays down his life for the sheep. The hired hand is not the shepherd and does not own the sheep. So when he sees the wolf coming, he abandons the sheep and runs away. Then the wolf attacks the flock and scatters it. The man runs away because he is a hired hand and cares nothing for the sheep.  John 10:10-13
"I have told you these things, so that in me you may have peace. In this world you will have trouble. But take heart! I have overcome the world."   John 16:33
God is our refuge and strength, an ever-present help in trouble.  Psalm 46:1 
Who then is the one who condemns? No one. Christ Jesus who died—more than that, who was raised to life—is at the right hand of God and is also interceding for us. Who shall separate us from the love of Christ? Shall trouble or hardship or persecution or famine or nakedness or danger or sword? As it is written:
"For your sake we face death all day long;
    we are considered as sheep to be slaughtered."
No, in all these things we are more than conquerors through him who loved us. For I am convinced that neither death nor life, neither angels nor demons, neither the present nor the future, nor any powers, neither height nor depth, nor anything else in all creation, will be able to separate us from the love of God that is in Christ Jesus our Lord.  Romans 8:34-39
3.    The giver of Christmas gave Himself to humble us by His example.
When he had finished washing their feet, he put on his clothes and returned to his place. "Do you understand what I have done for you?" he asked them. "You call me 'Teacher' and 'Lord,' and rightly so, for that is what I am. Now that I, your Lord and Teacher, have washed your feet, you also should wash one another's feet. I have set you an example that you should do as I have done for you. Very truly I tell you, no servant is greater than his master, nor is a messenger greater than the one who sent him. Now that you know these things, you will be blessed if you do them.   John 13:12-17
And now, brothers and sisters, we want you to know about the grace that God has given the Macedonian churches. In the midst of a very severe trial, their overflowing joy and their extreme poverty welled up in rich generosity. For I testify that they gave as much as they were able, and even beyond their ability. Entirely on their own, they urgently pleaded with us for the privilege of sharing in this service to the Lord's people. And they exceeded our expectations: They gave themselves first of all to the Lord, and then by the will of God also to us. So we urged Titus, just as he had earlier made a beginning, to bring also to completion this act of grace on your part.   2 Corinthians 8:1-6
Listen to the audio only:

Download The Giver of Christmas Gave Himself Audio