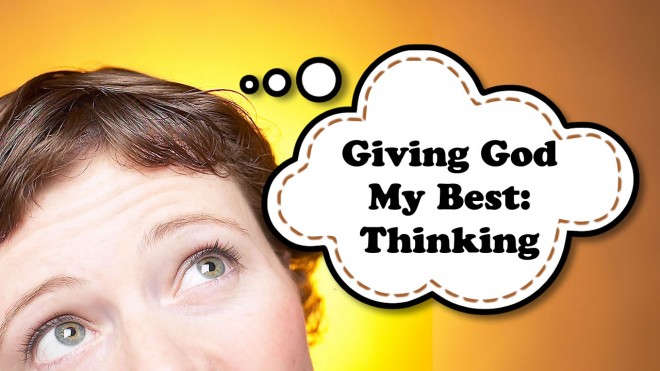 1. I must admit I don't naturally think like God thinks.
Let the wicked forsake his way and the evil man his thoughts. Let him turn to the LORD, and he will have mercy on him, and to our God, for he will freely pardon. "For my thoughts are not your thoughts, neither are your ways my ways," declares the LORD. "As the heavens are higher than the earth, so are my ways higher than your ways and my thoughts than your thoughts. Isaiah 55:7-9
In everything I did, I showed you that by this kind of hard work we must help the weak, remembering the words the Lord Jesus himself said: 'It is more blessed to give than to receive.' Acts 20:35
2. I need to adjust my thinking to God's thinking.
Your attitude should be the same as that of Christ Jesus: Who, being in very nature God, did not consider equality with God something to be grasped, but made himself nothing, taking the very nature of a servant, being made in human likeness. And being found in appearance as a man, he humbled himself and became obedient to death– even death on a cross! Therefore God exalted him to the highest place and gave him the name that is above every name, that at the name of Jesus every knee should bow, in heaven and on earth and under the earth, and every tongue confess that Jesus Christ is Lord, to the glory of God the Father. Philippians 2:5-11
The fear of the LORD teaches a man wisdom, and humility comes before honor. Proverbs 15:33
Not so with you. Instead, whoever wants to become great among you must be your servant, and whoever wants to be first must be slave of all. Mark 10:43-44
Humble yourselves, therefore, under God's mighty hand, that he may lift you up in due time. 1 Peter 5:6
3. I should act out of obedience no matter how I feel and leave the results to God.
"You have heard that it was said, 'Love your neighbor and hate your enemy.' But I tell you: Love your enemies and pray for those who persecute you, that you may be sons of your Father in heaven. He causes his sun to rise on the evil and the good, and sends rain on the righteous and the unrighteous. If you love those who love you, what reward will you get? Are not even the tax collectors doing that? And if you greet only your brothers, what are you doing more than others? Do not even pagans do that? Be perfect, therefore, as your heavenly Father is perfect. Matthew 5:43-48
"Do not store up for yourselves treasures on earth, where moth and rust destroy, and where thieves break in and steal. But store up for yourselves treasures in heaven, where moth and rust do not destroy, and where thieves do not break in and steal. For where your treasure is, there your heart will be also. "The eye is the lamp of the body. If your eyes are good, your whole body will be full of light. But if your eyes are bad, your whole body will be full of darkness. If then the light within you is darkness, how great is that darkness! "No one can serve two masters. Either he will hate the one and love the other, or he will be devoted to the one and despise the other. You cannot serve both God and Money. Matthew 6:19-24
Give, and it will be given to you. A good measure, pressed down, shaken together and running over, will be poured into your lap. For with the measure you use, it will be measured to you. Luke 6:38