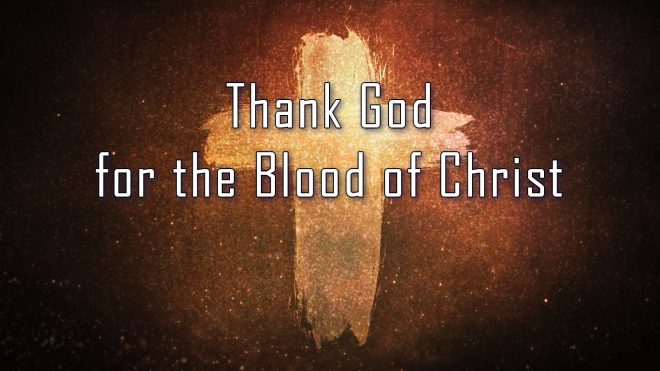 1. The blood brings us near to God.
But now in Christ Jesus you who once were far away have been brought near by the blood of Christ. Ephesians 2:13
2. The blood satisfies the justice of God.
So Moses chiseled out two stone tablets like the first ones and went up Mount Sinai early in the morning, as the LORD had commanded him; and he carried the two stone tablets in his hands. Then the LORD came down in the cloud and stood there with him and proclaimed his name, the LORD. And he passed in front of Moses, proclaiming, "The LORD, the LORD, the compassionate and gracious God, slow to anger, abounding in love and faithfulness, maintaining love to thousands, and forgiving wickedness, rebellion and sin. Yet he does not leave the guilty unpunished; he punishes the children and their children for the sin of the parents to the third and fourth generation." Moses bowed to the ground at once and worshiped. Exodus 34:4-8
But now apart from the law the righteousness of God has been made known, to which the Law and the Prophets testify. This righteousness is given through faith in Jesus Christ to all who believe. There is no difference between Jew and Gentile, for all have sinned and fall short of the glory of God, and all are justified freely by his grace through the redemption that came by Christ Jesus. God presented Christ as a sacrifice of atonement, through the shedding of his blood—to be received by faith. He did this to demonstrate his righteousness, because in his forbearance he had left the sins committed beforehand unpunished— he did it to demonstrate his righteousness at the present time, so as to be just and the one who justifies those who have faith in Jesus. Romans 3:21-26
Therefore, there is now no condemnation for those who are in Christ Jesus, because through Christ Jesus the law of the Spirit who gives life has set you free from the law of sin and death. For what the law was powerless to do because it was weakened by the flesh, God did by sending his own Son in the likeness of sinful flesh to be a sin offering. And so he condemned sin in the flesh, in order that the righteous requirement of the law might be fully met in us, who do not live according to the flesh but according to the Spirit. Romans 8:1-4
3. The blood substitutes Christ's life, death and resurrection for our own.
You see, at just the right time, when we were still powerless, Christ died for the ungodly. Very rarely will anyone die for a righteous person, though for a good person someone might possibly dare to die. But God demonstrates his own love for us in this: While we were still sinners, Christ died for us. Since we have now been justified by his blood, how much more shall we be saved from God's wrath through him! Romans 5:6-9
To this you were called, because Christ suffered for you, leaving you an example, that you should follow in his steps. "He committed no sin, and no deceit was found in his mouth." When they hurled their insults at him, he did not retaliate; when he suffered, he made no threats. Instead, he entrusted himself to him who judges justly. "He himself bore our sins" in his body on the cross, so that we might die to sins and live for righteousness; "by his wounds you have been healed." For "you were like sheep going astray," but now you have returned to the Shepherd and Overseer of your souls. 1 Peter 2:21-25
For Christ also suffered once for sins, the righteous for the unrighteous, to bring you to God. He was put to death in the body but made alive in the Spirit. 1 Peter 3:18
The LORD said to Moses and Aaron in Egypt, "This month is to be for you the first month, the first month of your year. Tell the whole community of Israel that on the tenth day of this month each man is to take a lamb for his family, one for each household. Exodus 12:1-3
What shall we say, then? Shall we go on sinning so that grace may increase? By no means! We are those who have died to sin; how can we live in it any longer? Or don't you know that all of us who were baptized into Christ Jesus were baptized into his death? We were therefore buried with him through baptism into death in order that, just as Christ was raised from the dead through the glory of the Father, we too may live a new life. For if we have been united with him in a death like his, we will certainly also be united with him in a resurrection like his. Romans 6:1-5
In him you were also circumcised with a circumcision not performed by human hands. Your whole self ruled by the flesh was put off when you were circumcised by Christ, having been buried with him in baptism, in which you were also raised with him through your faith in the working of God, who raised him from the dead. Colossians 2:11-12