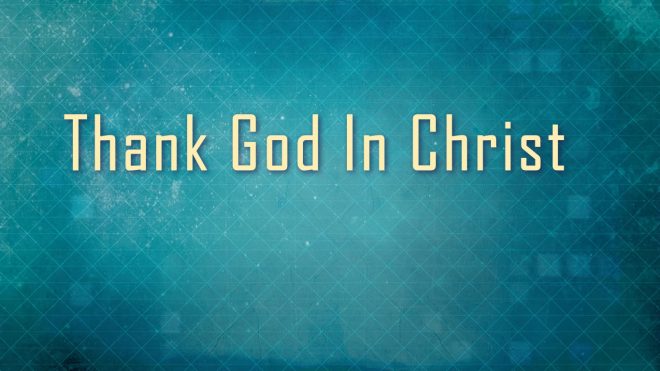 1. There is purpose for every person.
In him we have redemption through his blood, the forgiveness of sins, in accordance with the riches of God's grace that he lavished on us. With all wisdom and understanding, he made known to us the mystery of his will according to his good pleasure, which he purposed in Christ, to be put into effect when the times reach their fulfillment—to bring unity to all things in heaven and on earth under Christ. In him we were also chosen, having been predestined according to the plan of him who works out everything in conformity with the purpose of his will, in order that we, who were the first to put our hope in Christ, might be for the praise of his glory. Ephesians 1:7-12
For we are God's handiwork, created in Christ Jesus to do good works, which God prepared in advance for us to do. Ephesians 2:10
For God so loved the world that he gave his one and only Son, that whoever believes in him shall not perish but have eternal life. For God did not send his Son into the world to condemn the world, but to save the world through him. John 3:16-17
2. There is a place for us to belong.
When Jesus came to the region of Caesarea Philippi, he asked his disciples, "Who do people say the Son of Man is?" They replied, "Some say John the Baptist; others say Elijah; and still others, Jeremiah or one of the prophets." "But what about you?" he asked. "Who do you say I am?" Simon Peter answered, "You are the Messiah, the Son of the living God." Jesus replied, "Blessed are you, Simon son of Jonah, for this was not revealed to you by flesh and blood, but by my Father in heaven. And I tell you that you are Peter, and on this rock I will build my church, and the gates of Hades will not overcome it. Matthew 16:13-18
As you come to him, the living Stone—rejected by humans but chosen by God and precious to him— you also, like living stones, are being built into a spiritual house to be a holy priesthood, offering spiritual sacrifices acceptable to God through Jesus Christ. 1 Peter 2:5
But you are a chosen people, a royal priesthood, a holy nation, God's special possession, that you may declare the praises of him who called you out of darkness into his wonderful light. Once you were not a people, but now you are the people of God; once you had not received mercy, but now you have received mercy. 1 Peter 2:9-10
When the day of Pentecost came, they were all together in one place. Acts 2:1
All the believers were together and had everything in common. Acts 2:44
3. There is a promise and a pathway to paradise.
All these people were still living by faith when they died. They did not receive the things promised; they only saw them and welcomed them from a distance, admitting that they were foreigners and strangers on earth. People who say such things show that they are looking for a country of their own. If they had been thinking of the country they had left, they would have had opportunity to return. Instead, they were longing for a better country—a heavenly one. Therefore God is not ashamed to be called their God, for he has prepared a city for them. Hebrews 11:13-16
"Do not let your hearts be troubled. You believe in God; believe also in me. My Father's house has many rooms; if that were not so, would I have told you that I am going there to prepare a place for you? And if I go and prepare a place for you, I will come back and take you to be with me that you also may be where I am. You know the way to the place where I am going." Thomas said to him, "Lord, we don't know where you are going, so how can we know the way?" Jesus answered, "I am the way and the truth and the life. No one comes to the Father except through me. John 14:1-6
As Jesus was walking beside the Sea of Galilee, he saw two brothers, Simon called Peter and his brother Andrew. They were casting a net into the lake, for they were fishermen. "Come, follow me," Jesus said, "and I will send you out to fish for people." Matthew 4:18-19