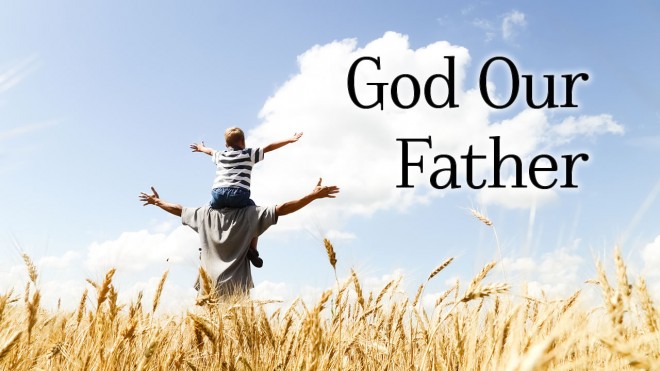 For this reason I kneel before the Father, from whom his whole family in heaven and on earth derives its name. Ephesians 3:14-15
1. Is a Father who loves.
For God so loved the world that he gave his one and only Son, that whoever believes in him shall not perish but have eternal life. John 3:16
Though I have been speaking figuratively, a time is coming when I will no longer use this kind of language but will tell you plainly about my Father. In that day you will ask in my name. I am not saying that I will ask the Father on your behalf. No, the Father himself loves you because you have loved me and have believed that I came from God. I came from the Father and entered the world; now I am leaving the world and going back to the Father. John 16:25-28
How great is the love the Father has lavished on us, that we should be called children of God! And that is what we are! The reason the world does not know us is that it did not know him. Dear friends, now we are children of God, and what we will be has not yet been made known. But we know that when he appears, we shall be like him, for we shall see him as he is. 1 John 3:1-2
Husbands, love your wives, just as Christ loved the church and gave himself up for her to make her holy, cleansing her by the washing with water through the word, and to present her to himself as a radiant church, without stain or wrinkle or any other blemish, but holy and blameless. Ephesians 5:25-27
To all in Rome who are loved by God and called to be saints: Grace and peace to you from God our Father and from the Lord Jesus Christ. Romans 1:7
2 Is a Father who listens.
This, then, is how you should pray: " 'Our Father in heaven, hallowed be your name, your kingdom come, your will be done on earth as it is in heaven. Give us today our daily bread. Forgive us our debts, as we also have forgiven our debtors. And lead us not into temptation, but deliver us from the evil one. ' Matthew 6:9-13
After Jesus said this, he looked toward heaven and prayed: "Father, the time has come. Glorify your Son, that your Son may glorify you. For you granted him authority over all people that he might give eternal life to all those you have given him. Now this is eternal life: that they may know you, the only true God, and Jesus Christ, whom you have sent. I have brought you glory on earth by completing the work you gave me to do. And now, Father, glorify me in your presence with the glory I had with you before the world began. John 17:1-5
So they took away the stone. Then Jesus looked up and said, "Father, I thank you that you have heard me. I knew that you always hear me, but I said this for the benefit of the people standing here, that they may believe that you sent me." John 11:41-42
Rejoice in the Lord always. I will say it again: Rejoice! Let your gentleness be evident to all. The Lord is near. Do not be anxious about anything, but in everything, by prayer and petition, with thanksgiving, present your requests to God. And the peace of God, which transcends all understanding, will guard your hearts and your minds in Christ Jesus. Finally, brothers, whatever is true, whatever is noble, whatever is right, whatever is pure, whatever is lovely, whatever is admirable–if anything is excellent or praiseworthy–think about such things. Philippians 4:4-8
Children, obey your parents in the Lord, for this is right. "Honor your father and mother"–which is the first commandment with a promise– "that it may go well with you and that you may enjoy long life on the earth." Fathers, do not exasperate your children; instead, bring them up in the training and instruction of the Lord. Ephesians 6:1-4
3 Is a Father who lasts.
Be strong and courageous. Do not be afraid or terrified because of them, for the LORD your God goes with you; he will never leave you nor forsake you." Then Moses summoned Joshua and said to him in the presence of all Israel, "Be strong and courageous, for you must go with this people into the land that the LORD swore to their forefathers to give them, and you must divide it among them as their inheritance. The LORD himself goes before you and will be with you; he will never leave you nor forsake you. Do not be afraid; do not be discouraged." Deuteronomy 31:6-8
No one will be able to stand up against you all the days of your life. As I was with Moses, so I will be with you; I will never leave you nor forsake you. Joshua 1:5
Keep your lives free from the love of money and be content with what you have, because God has said, "Never will I leave you; never will I forsake you." Hebrews 13:5