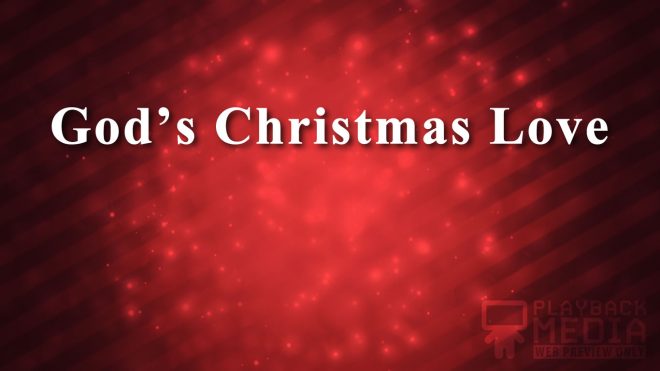 1. God's Christmas love is fully committed.
For God so loved the world that he gave his one and only Son, that whoever believes in him shall not perish but have eternal life. John 3:16
This is how God showed his love among us: He sent his one and only Son into the world that we might live through him. 1 John 4:9
Greater love has no one than this: to lay down one's life for one's friends. John 15:13
2. God's Christmas love is clearly communicated.
In the beginning was the Word, and the Word was with God, and the Word was God. John 1:1
The Word became flesh and made his dwelling among us. We have seen his glory, the glory of the one and only Son, who came from the Father, full of grace and truth. John 1:14
The Son is the image of the invisible God, the firstborn over all creation. For in him all things were created: things in heaven and on earth, visible and invisible, whether thrones or powers or rulers or authorities; all things have been created through him and for him. He is before all things, and in him all things hold together. And he is the head of the body, the church; he is the beginning and the firstborn from among the dead, so that in everything he might have the supremacy. For God was pleased to have all his fullness dwell in him, and through him to reconcile to himself all things, whether things on earth or things in heaven, by making peace through his blood, shed on the cross. Colossians 1:15-20
3. God's Christmas love is continually demonstrated.
But God demonstrates his own love for us in this: While we were still sinners, Christ died for us. Romans 5:8
Above all, love each other deeply, because love covers over a multitude of sins. 1 Peter 4:8
In all these things we are more than conquerors through him who loved us. For I am convinced that neither death nor life, neither angels nor demons, neither the present nor the future, nor any powers, neither height nor depth, nor anything else in all creation, will be able to separate us from the love of God that is in Christ Jesus our Lord. Romans 8:37-39