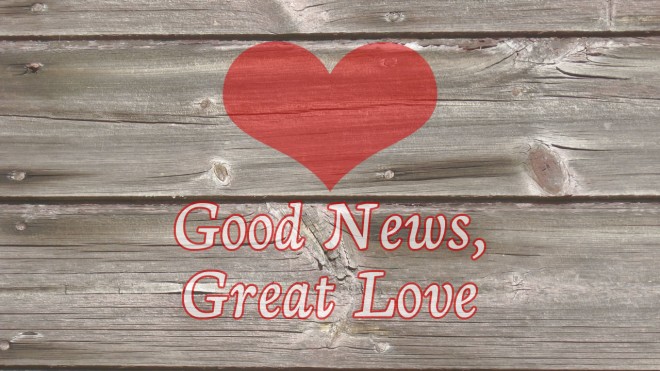 For God so loved the world that he gave his one and only Son, that whoever believes in him shall not perish but have eternal life. John 3:16
1 The Source of Great Love.
"For God…"
And so we know and rely on the love God has for us. God is love. Whoever lives in love lives in God, and God in him. 1 John 4:16
But the fruit of the Spirit is love, joy, peace, patience, kindness, goodness, faithfulness, 23 gentleness and self-control. Against such things there is no law. Galatians 5:22-23
2 The Strength of Great Love.
"…so loved…"
But God demonstrates his own love for us in this: While we were still sinners, Christ died for us. Romans 5:8
Give thanks to the LORD, for he is good. "His love endures forever." 2 Give thanks to the God of gods. "His love endures forever." 3 Give thanks to the Lord of lords: "His love endures forever." 4 to him who alone does great wonders, "His love endures forever." Psalm 136;1-4
3 The Scope of Great Love.
"…the world…"
After this I looked, and there before me was a great multitude that no one could count, from every nation, tribe, people and language, standing before the throne and before the Lamb. Revelation 7:9
4 The Savior of Great Love.
"…that he gave his one and only Son…"
For the grace of God that brings salvation has appeared to all men. 12 It teaches us to say "No" to ungodliness and worldly passions, and to live self-controlled, upright and godly lives in this present age, 13 while we wait for the blessed hope–the glorious appearing of our great God and Savior, Jesus Christ, 14 who gave himself for us to redeem us from all wickedness and to purify for himself a people that are his very own, eager to do what is good. Titus 2:11-14
And we have seen and testify that the Father has sent his Son to be the Savior of the world.
1 John 4:14
5. The Salvation of Great Love.
"…that whoever believes in him shall not perish but have eternal life."
But what does it say? "The word is near you; it is in your mouth and in your heart," that is, the word of faith we are proclaiming: 9 That if you confess with your mouth, "Jesus is Lord," and believe in your heart that God raised him from the dead, you will be saved. 10 For it is with your heart that you believe and are justified, and it is with your mouth that you confess and are saved. 11 As the Scripture says, "Anyone who trusts in him will never be put to shame." 12 For there is no difference between Jew and Gentile–the same Lord is Lord of all and richly blesses all who call on him, 13 for, "Everyone who calls on the name of the Lord will be saved." Romans 10:8-13