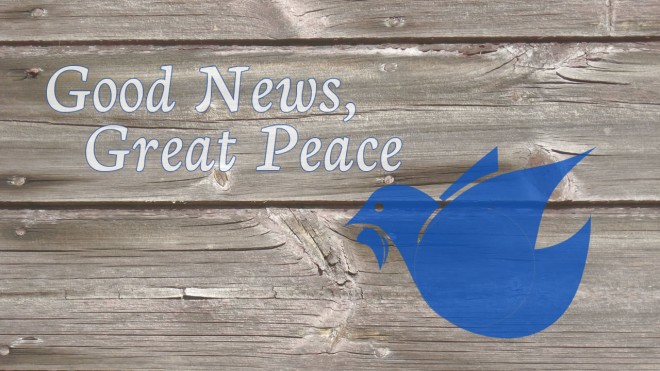 But the angel said to them, "Do not be afraid. I bring you good news of great joy that will be for all the people. Today in the town of David a Savior has been born to you; he is Christ the Lord. This will be a sign to you: You will find a baby wrapped in cloths and lying in a manger." Suddenly a great company of the heavenly host appeared with the angel, praising God and saying, "Glory to God in the highest, and on earth peace to men on whom his favor rests." Luke 2:10-14
1. Christmas peace brings reconciliation.
"Glory to God in the highest, and on earth peace to men on whom his favor rests." Luke 2:14
You know the message God sent to the people of Israel, telling the good news of peace through Jesus Christ, who is Lord of all. Acts 10:36
All this is from God, who reconciled us to himself through Christ and gave us the ministry of reconciliation: that God was reconciling the world to himself in Christ, not counting men's sins against them. And he has committed to us the message of reconciliation. 2 Corinthians 5:18-19
Therefore, since we have been justified through faith, we have peace with God through our Lord Jesus Christ, Romans 5:1
For he himself is our peace, who has made the two one and has destroyed the barrier, the dividing wall of hostility, Ephesians 2:14
This then is how we know that we belong to the truth, and how we set our hearts at rest in his presence whenever our hearts condemn us. For God is greater than our hearts, and he knows everything. 1 John 3:19-20
2. Christmas peace brings relief.
Rejoice in the Lord always. I will say it again: Rejoice! Let your gentleness be evident to all. The Lord is near. Do not be anxious about anything, but in everything, by prayer and petition, with thanksgiving, present your requests to God. And the peace of God, which transcends all understanding, will guard your hearts and your minds in Christ Jesus. Philippians 4:4-7
On the evening of that first day of the week, when the disciples were together, with the doors locked for fear of the Jews, Jesus came and stood among them and said, "Peace be with you!" After he said this, he showed them his hands and side. The disciples were overjoyed when they saw the Lord. Again Jesus said, "Peace be with you! As the Father has sent me, I am sending you." John 20:19-21
Let the peace of Christ rule in your hearts, since as members of one body you were called to peace. And be thankful. Colossians 3:15
3. Christmas peace brings rest.
There remains, then, a Sabbath-rest for the people of God; for anyone who enters God's rest also rests from his own work, just as God did from his. Hebrews 4:9-10
But the fruit of the Spirit is love, joy, peace, patience, kindness, goodness, faithfulness, gentleness and self-control. Against such things there is no law. Galatians 5:22-23
"Sovereign Lord, as you have promised, you now dismiss your servant in peace. For my eyes have seen your salvation, which you have prepared in the sight of all people, a light for revelation to the Gentiles and for glory to your people Israel." Luke 2:29-32
Take my yoke upon you and learn from me, for I am gentle and humble in heart, and you will find rest for your souls. Matthew 11:29