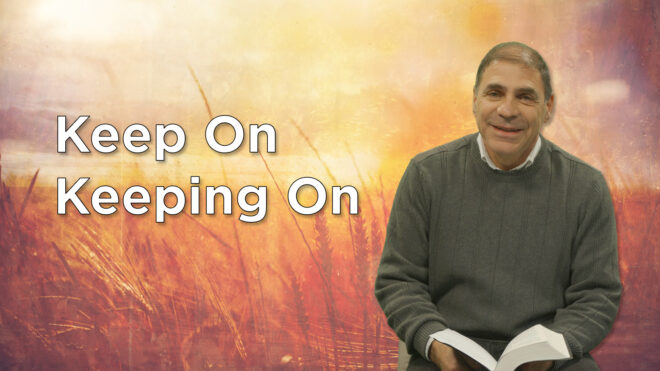 Keep on being grateful
Psalm 106:1
Praise the LORD. Give thanks to the LORD, for he is good; his love endures forever.
1 Thessalonians 5:16-18
Rejoice always, 17 pray continually, 18 give thanks in all circumstances; for this is God's will for you in Christ Jesus.
Ephesians 5:18-20
Do not get drunk on wine, which leads to debauchery. Instead, be filled with the Spirit, 19 speaking to one another with psalms, hymns, and songs from the Spirit. Sing and make music from your heart to the Lord, 20 always giving thanks to God the Father for everything, in the name of our Lord Jesus Christ.
Colossians 3:15
Let the peace of Christ rule in your hearts, since as members of one body you were called to peace. And be thankful.
Keep on being fruitful
John 15:5-8
"I am the vine; you are the branches. If you remain in me and I in you, you will bear much fruit; apart from me you can do nothing. 6 If you do not remain in me, you are like a branch that is thrown away and withers; such branches are picked up, thrown into the fire and burned. 7 If you remain in me and my words remain in you, ask whatever you wish, and it will be done for you. 8 This is to my Father's glory, that you bear much fruit, showing yourselves to be my disciples.
Colossians 1:1-14
Paul, an apostle of Christ Jesus by the will of God, and Timothy our brother, 2 To God's holy people in Colossae, the faithful brothers and sisters in Christ: Grace and peace to you from God our Father. 3 We always thank God, the Father of our Lord Jesus Christ, when we pray for you, 4 because we have heard of your faith in Christ Jesus and of the love you have for all God's people— 5 the faith and love that spring from the hope stored up for you in heaven and about which you have already heard in the true message of the gospel 6 that has come to you. In the same way, the gospel is bearing fruit and growing throughout the whole world—just as it has been doing among you since the day you heard it and truly understood God's grace. 7 You learned it from Epaphras, our dear fellow servant, who is a faithful minister of Christ on our behalf, 8 and who also told us of your love in the Spirit. 9 For this reason, since the day we heard about you, we have not stopped praying for you. We continually ask God to fill you with the knowledge of his will through all the wisdom and understanding that the Spirit gives, 10 so that you may live a life worthy of the Lord and please him in every way: bearing fruit in every good work, growing in the knowledge of God, 11 being strengthened with all power according to his glorious might so that you may have great endurance and patience, 12 and giving joyful thanks to the Father, who has qualified you to share in the inheritance of his holy people in the kingdom of light. 13 For he has rescued us from the dominion of darkness and brought us into the kingdom of the Son he loves, 14 in whom we have redemption, the forgiveness of sins.
Psalm 92:12-15
The righteous will flourish like a palm tree, they will grow like a cedar of Lebanon; 13 planted in the house of the LORD, they will flourish in the courts of our God.14 They will still bear fruit in old age, they will stay fresh and green, 15 proclaiming, "The LORD is upright; he is my Rock, and there is no wickedness in him."
Galatians 5:22-23
But the fruit of the Spirit is love, joy, peace, forbearance, kindness, goodness, faithfulness, 23 gentleness and self-control. Against such things there is no law.
Keep on having faith and being faithful.
Hebrews 11:1-6
Now faith is confidence in what we hope for and assurance about what we do not see. 2 This is what the ancients were commended for. 3 By faith we understand that the universe was formed at God's command, so that what is seen was not made out of what was visible. 4 By faith Abel brought God a better offering than Cain did. By faith he was commended as righteous, when God spoke well of his offerings. And by faith Abel still speaks, even though he is dead. 5 By faith Enoch was taken from this life, so that he did not experience death: "He could not be found, because God had taken him away." For before he was taken, he was commended as one who pleased God. 6 And without faith it is impossible to please God, because anyone who comes to him must believe that he exists and that he rewards those who earnestly seek him.
Ephesians 2:8-9
For it is by grace you have been saved, through faith—and this is not from yourselves, it is the gift of God— 9 not by works, so that no one can boast.
Proverbs 3:5-6
Trust in the LORD with all your heart and lean not on your own understanding; in all your ways submit to him, and he will make your paths straight.
Hebrews 10:23
Let us hold unswervingly to the hope we profess, for he who promised is faithful.