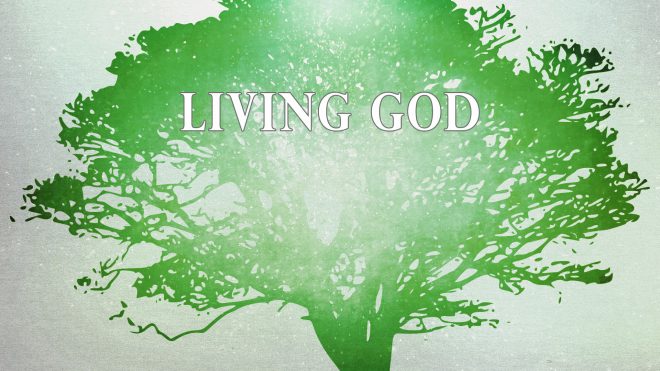 Our God is called Living God.
Joshua 3:10
10 This is how you will know that the living God is among you and that he will certainly drive out before you the Canaanites, Hittites, Hivites, Perizzites, Girgashites, Amorites and Jebusites.
1 Samuel 17:26
26 David asked the men standing near him, "What will be done for the man who kills this Philistine and removes this disgrace from Israel? Who is this uncircumcised Philistine that he should defy the armies of the living God?"
Psalm 84:2
My soul yearns, even faints, for the courts of the LORD; my heart and my flesh cry out for the living God.
Matthew 16:16
16 Simon Peter answered, "You are the Messiah, the Son of the living God."
1 Timothy 3:15
15 if I am delayed, you will know how people ought to conduct themselves in God's household, which is the church of the living God, the pillar and foundation of the truth.
Revelation 7:2
2 Then I saw another angel coming up from the east, having the seal of the living God. He called out in a loud voice to the four angels who had been given power to harm the land and the sea:
Our God feels, has power and is active.
Psalm 115:3
Our God is in heaven, he does whatever pleases him.
John 5:17
17 In his defense Jesus said to them, "My Father is always at his work to this very day, and I too am working."
Our God is the source and support of all life.
Psalm 36:9
For with you is the fountain of life; in your light we see light.
John5:26
26 For as the Father has life in himself, so he has granted the Son also to have life in himself.
Our God sees, hears, and loves.
Psalm 115:3-9
3 Our God is in heaven; he does whatever pleases him. 4 But their idols are silver and gold, made by human hands. 5 They have mouths, but cannot speak, eyes, but cannot see.6 They have ears, but cannot hear, noses, but cannot smell. 7 They have hands, but cannot feel, feet, but cannot walk, nor can they utter a sound with their throats. 8 Those who make them will be like them, and so will all who trust in them. 9 All you Israelites, trust in the LORD— he is their help and shield.
Acts 14:15
15 "Friends, why are you doing this? We too are only human, like you. We are bringing you good news, telling you to turn from these worthless things to the living God, who made the heavens and the earth and the sea and everything in them.
1 Thessalonians 1:9
9 for they themselves report what kind of reception you gave us. They tell how you turned to God from idols to serve the living and true God,
John 3:16-17
16 For God so loved the world that he gave his one and only Son, that whoever believes in him shall not perish but have eternal life. 17 For God did not send his Son into the world to condemn the world, but to save the world through him.
YouTube Live
Facebook Live