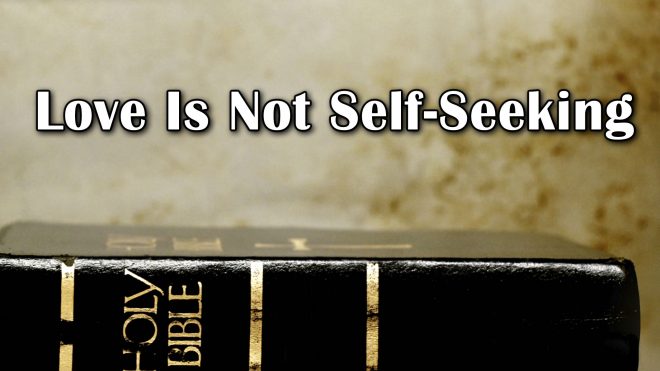 1. The pursuit of selfless-love.
5(Love) does not dishonor others, it is not self-seeking, it is not easily angered, it keeps no record of wrongs. 1 Corinthians 13:5
13 You will seek me and find me when you seek me with all your heart. Jeremiah 29:13
17 I love those who love me, and those who seek me find me. Proverbs 8:17
3 Do nothing out of selfish ambition or vain conceit. Rather, in humility value others above yourselves, 4 not looking to your own interests but each of you to the interests of the others. Philippians 2:3-4
2. The priority of selfless-love.
33 But seek first his kingdom and his righteousness, and all these things will be given to you as well. Matthew 6:33
9 "This, then, is how you should pray: " 'Our Father in heaven, hallowed be your name, 10 your kingdom come, your will be done, on earth as it is in heaven. 11 Give us today our daily bread. Matthew 6:9
3. The practice of selfless-love.
11 Dear friends, since God so loved us, we also ought to love one another. 12 No one has ever seen God; but if we love one another, God lives in us and his love is made complete in us. 1 John 4:11-12
Our profession
2 This is how you can recognize the Spirit of God: Every spirit that acknowledges that Jesus Christ has come in the flesh is from God, 3 but every spirit that does not acknowledge Jesus is not from God. This is the spirit of the antichrist, which you have heard is coming and even now is already in the world. 1 John 4:2-3
13 This is how we know that we live in him and he in us: He has given us of his Spirit. 14 And we have seen and testify that the Father has sent his Son to be the Savior of the world. 15 If anyone acknowledges that Jesus is the Son of God, God lives in them and they in God. 1 John 4:13-15
Our perspective
5 They are from the world and therefore speak from the viewpoint of the world, and the world listens to them. 6 We are from God, and whoever knows God listens to us; but whoever is not from God does not listen to us. This is how we recognize the Spirit of truth and the spirit of falsehood. 1 John 4:5-6
Our practice
17 This is how love is made complete among us so that we will have confidence on the day of judgment: In this world we are like Jesus. 18 There is no fear in love. But perfect love drives out fear, because fear has to do with punishment. The one who fears is not made perfect in love. 19 We love because he first loved us. 20 Whoever claims to love God yet hates a brother or sister is a liar. For whoever does not love their brother and sister, whom they have seen, cannot love God, whom they have not seen. 21 And he has given us this command: Anyone who loves God must also love their brother and sister. 1 John 4:17-21
1 Follow God's example, therefore, as dearly loved children 2 and walk in the way of love, just as Christ loved us and gave himself up for us as a fragrant offering and sacrifice to God. Ephesians 5:1-2
5 "I am the vine; you are the branches. If you remain in me and I in you, you will bear much fruit; apart from me you can do nothing. 6 If you do not remain in me, you are like a branch that is thrown away and withers; such branches are picked up, thrown into the fire and burned. 7 If you remain in me and my words remain in you, ask whatever you wish, and it will be done for you. 8 This is to my Father's glory, that you bear much fruit, showing yourselves to be my disciples. 9 "As the Father has loved me, so have I loved you. Now remain in my love. John 15:5-9