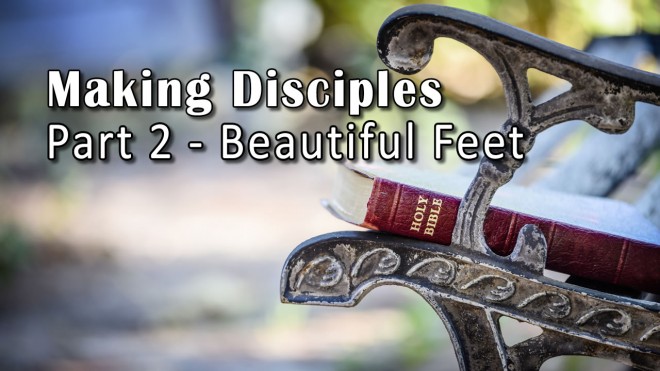 "How beautiful are the feet of those who preach the gospel of peace, who bring glad tidings of good things." Romans 10:15b NKJV
I. Inspiration.
A. The Lord's will. (II Peter 3:9).
"…not willing that any should perish…"
B. The Lord's desire. (I Timothy 2:1-4).
"…who desires all men to be saved…"
II. Dedication.
A. Being a watchman. (II Ezekiel 3:16-21).
We have been tasked to deliver a life-saving message.
B. Beautiful feet. (Romans 10:14-15).
"How shall they believe in Him of whom they have not heard?"
C. Not ashamed. (Romans 1:16)
We are saved because someone else wasn't ashamed of the Gospel.
III. Communication.
A. According to the Scriptures. (I Corinthians 15:1-8)
He has even given us the words to speak.
B. Romans Road. (Romans 1:18-22, 3:21-26, 5:6-11, 6:20-23, 8:31-39, 10:9-13, 12:1-2)
"Whoever calls on the name of the Lord shall be saved."
C. We speak. (I Corinthians 1:18-25)
But only God can save.
"For God so loved the world that He gave His only begotten Son, that whoever believes in Him should not perish but have everlasting life." John 3:16