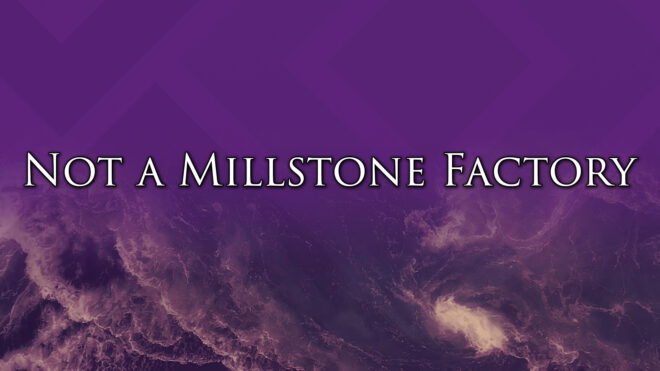 I. From Defense to Offense
Matthew 18:6
6 "But whoever causes one of these little ones who believe in Me to sin, it would be better for him if a millstone were hung around his neck, and he were drowned in the depth of the sea.
Matthew 18:1-7
1 At that time the disciples came to Jesus, saying, "Who then is greatest in the kingdom of heaven?" 2 Then Jesus called a little child to Him, set him in the midst of them, 3 and said, "Assuredly, I say to you, unless you are converted and become as little children, you will by no means enter the kingdom of heaven. 4 Therefore whoever humbles himself as this little child is the greatest in the kingdom of heaven. 5 Whoever receives one little child like this in My name receives Me. 6 "But whoever causes one of these little ones who believe in Me to sin, it would be better for him if a millstone were hung around his neck, and he were drowned in the depth of the sea. 7 Woe to the world because of offenses! For offenses must come, but woe to that man by whom the offense comes!
Matthew 18:8-20
8 "If your hand or foot causes you to sin, cut it off and cast it from you. It is better for you to enter into life lame or maimed, rather than having two hands or two feet, to be cast into the everlasting fire. 9 And if your eye causes you to sin, pluck it out and cast it from you. It is better for you to enter into life with one eye, rather than having two eyes, to be cast into hell fire. 10 "Take heed that you do not despise one of these little ones, for I say to you that in heaven their angels always see the face of My Father who is in heaven. 11 For the Son of Man has come to save that which was lost. 12 "What do you think? If a man has a hundred sheep, and one of them goes astray, does he not leave the ninety-nine and go to the mountains to seek the one that is straying? 13 And if he should find it, assuredly, I say to you, he rejoices more over that sheep than over the ninety-nine that did not go astray. 14 Even so it is not the will of your Father who is in heaven that one of these little ones should perish. 15 "Moreover if your brother sins against you, go and tell him his fault between you and him alone. If he hears you, you have gained your brother. 16 But if he will not hear, take with you one or two more, that 'by the mouth of two or three witnesses every word may be established.' 17 And if he refuses to hear them, tell it to the church. But if he refuses even to hear the church, let him be to you like a heathen and a tax collector. 18 "Assuredly, I say to you, whatever you bind on earth will be bound in heaven, and whatever you loose on earth will be loosed in heaven. 19 "Again I say to you that if two of you agree on earth concerning anything that they ask, it will be done for them by My Father in heaven. 20 For where two or three are gathered together in My name, I am there in the midst of them."
II. Mission-Minded
Luke 2:39-52
39 So when they had performed all things according to the law of the Lord, they returned to Galilee, to their own city, Nazareth. 40 And the Child grew and became strong in spirit, filled with wisdom; and the grace of God was upon Him. 41 His parents went to Jerusalem every year at the Feast of the Passover. 42 And when He was twelve years old, they went up to Jerusalem according to the custom of the feast. 43 When they had finished the days, as they returned, the Boy Jesus lingered behind in Jerusalem. And Joseph and His mother did not know it; 44 but supposing Him to have been in the company, they went a day's journey, and sought Him among their relatives and acquaintances. 45 So when they did not find Him, they returned to Jerusalem, seeking Him. 46 Now so it was that after three days they found Him in the temple, sitting in the midst of the teachers, both listening to them and asking them questions. 47 And all who heard Him were astonished at His understanding and answers. 48 So when they saw Him, they were amazed; and His mother said to Him, "Son, why have You done this to us? Look, Your father and I have sought You anxiously." 49 And He said to them, "Why did you seek Me? Did you not know that I must be about My Father's business?" 50 But they did not understand the statement which He spoke to them. 51 Then He went down with them and came to Nazareth, and was subject to them, but His mother kept all these things in her heart. 52 And Jesus increased in wisdom and stature, and in favor with God and men.
Proverbs 22:6
Train up a child in the way he should go, And when he is old he will not depart from it.
III. Education by Immersion
Deuteronomy 6:1-9
1 "Now this is the commandment, and these are the statutes and judgments which the Lord your God has commanded to teach you, that you may observe them in the land which you are crossing over to possess, 2 that you may fear the Lord your God, to keep all His statutes and His commandments which I command you, you and your son and your grandson, all the days of your life, and that your days may be prolonged. 3 Therefore hear, O Israel, and be careful to observe it, that it may be well with you, and that you may multiply greatly as the Lord God of your fathers has promised you—'a land flowing with milk and honey.' 4 "Hear, O Israel: The Lord our God, the Lord is one! 5 You shall love the Lord your God with all your heart, with all your soul, and with all your strength. 6 "And these words which I command you today shall be in your heart. 7 You shall teach them diligently to your children, and shall talk of them when you sit in your house, when you walk by the way, when you lie down, and when you rise up. 8 You shall bind them as a sign on your hand, and they shall be as frontlets between your eyes. 9 You shall write them on the doorposts of your house and on your gates.
Colossians 3:18-25
18 Wives, submit to your own husbands, as is fitting in the Lord. 19 Husbands, love your wives and do not be bitter toward them. 20 Children, obey your parents in all things, for this is well pleasing to the Lord. 21 Fathers, do not provoke your children, lest they become discouraged. 22 Bondservants, obey in all things your masters according to the flesh, not with eyeservice, as men-pleasers, but in sincerity of heart, fearing God. 23 And whatever you do, do it heartily, as to the Lord and not to men, 24 knowing that from the Lord you will receive the reward of the inheritance; for you serve the Lord Christ. 25 But he who does wrong will be repaid for what he has done, and there is no partiality.