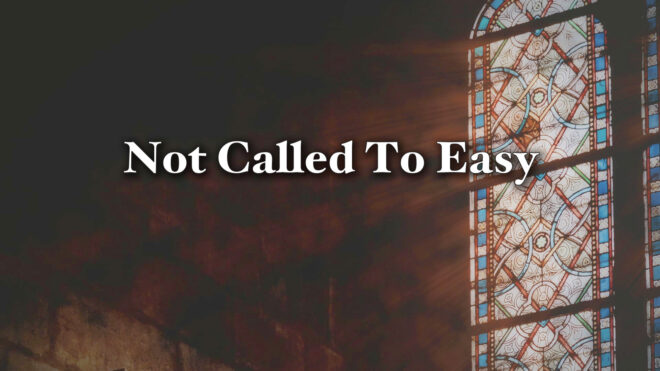 I. Seeking Solid Ground
Acts 8:5-25
5 Then Philip went down to the city of Samaria and preached Christ to them. 6 And the multitudes with one accord heeded the things spoken by Philip, hearing and seeing the miracles which he did. 7 For unclean spirits, crying with a loud voice, came out of many who were possessed; and many who were paralyzed and lame were healed. 8 And there was great joy in that city. 9 But there was a certain man called Simon, who previously practiced sorcery in the city and astonished the people of Samaria, claiming that he was someone great, 10 to whom they all gave heed, from the least to the greatest, saying, "This man is the great power of God." 11 And they heeded him because he had astonished them with his sorceries for a long time. 12 But when they believed Philip as he preached the things concerning the kingdom of God and the name of Jesus Christ, both men and women were baptized. 13 Then Simon himself also believed; and when he was baptized he continued with Philip, and was amazed, seeing the miracles and signs which were done. 14 Now when the apostles who were at Jerusalem heard that Samaria had received the word of God, they sent Peter and John to them, 15 who, when they had come down, prayed for them that they might receive the Holy Spirit. 16 For as yet He had fallen upon none of them. They had only been baptized in the name of the Lord Jesus. 17 Then they laid hands on them, and they received the Holy Spirit. 18 And when Simon saw that through the laying on of the apostles' hands the Holy Spirit was given, he offered them money, 19 saying, "Give me this power also, that anyone on whom I lay hands may receive the Holy Spirit." 20 But Peter said to him, "Your money perish with you, because you thought that the gift of God could be purchased with money! 21 You have neither part nor portion in this matter, for your heart is not right in the sight of God. 22 Repent therefore of this your wickedness, and pray God if perhaps the thought of your heart may be forgiven you. 23 For I see that you are poisoned by bitterness and bound by iniquity." 24 Then Simon answered and said, "Pray to the Lord for me, that none of the things which you have spoken may come upon me." 25 So when they had testified and preached the word of the Lord, they returned to Jerusalem, preaching the gospel in many villages of the Samaritans.
Matthew 12:22-45
22 Then one was brought to Him who was demon-possessed, blind and mute; and He healed him, so that the blind and mute man both spoke and saw. 23 And all the multitudes were amazed and said, "Could this be the Son of David?" 24 Now when the Pharisees heard it they said, "This fellow does not cast out demons except by Beelzebub, the ruler of the demons." 25 But Jesus knew their thoughts, and said to them: "Every kingdom divided against itself is brought to desolation, and every city or house divided against itself will not stand. 26 If Satan casts out Satan, he is divided against himself. How then will his kingdom stand? 27 And if I cast out demons by Beelzebub, by whom do your sons cast them out? Therefore they shall be your judges. 28 But if I cast out demons by the Spirit of God, surely the kingdom of God has come upon you. 29 Or how can one enter a strong man's house and plunder his goods, unless he first binds the strong man? And then he will plunder his house. 30 He who is not with Me is against Me, and he who does not gather with Me scatters abroad. 31 "Therefore I say to you, every sin and blasphemy will be forgiven men, but the blasphemy against the Spirit will not be forgiven men. 32 Anyone who speaks a word against the Son of Man, it will be forgiven him; but whoever speaks against the Holy Spirit, it will not be forgiven him, either in this age or in the age to come. 33 "Either make the tree good and its fruit good, or else make the tree bad and its fruit bad; for a tree is known by its fruit. 34 Brood of vipers! How can you, being evil, speak good things? For out of the abundance of the heart the mouth speaks. 35 A good man out of the good treasure of his heart brings forth good things, and an evil man out of the evil treasure brings forth evil things. 36 But I say to you that for every idle word men may speak, they will give account of it in the day of judgment. 37 For by your words you will be justified, and by your words you will be condemned." 38 Then some of the scribes and Pharisees answered, saying, "Teacher, we want to see a sign from You." 39 But He answered and said to them, "An evil and adulterous generation seeks after a sign, and no sign will be given to it except the sign of the prophet Jonah. 40 For as Jonah was three days and three nights in the belly of the great fish, so will the Son of Man be three days and three nights in the heart of the earth. 41 The men of Nineveh will rise up in the judgment with this generation and condemn it, because they repented at the preaching of Jonah; and indeed a greater than Jonah is here. 42 The queen of the South will rise up in the judgment with this generation and condemn it, for she came from the ends of the earth to hear the wisdom of Solomon; and indeed a greater than Solomon is here. 43 "When an unclean spirit goes out of a man, he goes through dry places, seeking rest, and finds none. 44 Then he says, 'I will return to my house from which I came.' And when he comes, he finds it empty, swept, and put in order. 45 Then he goes and takes with him seven other spirits more wicked than himself, and they enter and dwell there; and the last state of that man is worse than the first. So shall it also be with this wicked generation."
II. Clinging To A Moving Chariot
Acts 8:26-40
26 Now an angel of the Lord spoke to Philip, saying, "Arise and go toward the south along the road which goes down from Jerusalem to Gaza." This is desert. 27 So he arose and went. And behold, a man of Ethiopia, a eunuch of great authority under Candace the queen of the Ethiopians, who had charge of all her treasury, and had come to Jerusalem to worship, 28 was returning. And sitting in his chariot, he was reading Isaiah the prophet. 29 Then the Spirit said to Philip, "Go near and overtake this chariot." 30 So Philip ran to him, and heard him reading the prophet Isaiah, and said, "Do you understand what you are reading?" 31 And he said, "How can I, unless someone guides me?" And he asked Philip to come up and sit with him. 32 The place in the Scripture which he read was this: "He was led as a sheep to the slaughter; And as a lamb before its shearer is silent, So He opened not His mouth. 33 In His humiliation His justice was taken away, And who will declare His generation? For His life is taken from the earth." 34 So the eunuch answered Philip and said, "I ask you, of whom does the prophet say this, of himself or of some other man?" 35 Then Philip opened his mouth, and beginning at this Scripture, preached Jesus to him. 36 Now as they went down the road, they came to some water. And the eunuch said, "See, here is water. What hinders me from being baptized?" 37 Then Philip said, "If you believe with all your heart, you may." And he answered and said, "I believe that Jesus Christ is the Son of God." 38 So he commanded the chariot to stand still. And both Philip and the eunuch went down into the water, and he baptized him. 39 Now when they came up out of the water, the Spirit of the Lord caught Philip away, so that the eunuch saw him no more; and he went on his way rejoicing. 40 But Philip was found at Azotus. And passing through, he preached in all the cities till he came to Caesarea.
III. Counting The Cost
Acts 9:1-16
1 Then Saul, still breathing threats and murder against the disciples of the Lord, went to the high priest 2 and asked letters from him to the synagogues of Damascus, so that if he found any who were of the Way, whether men or women, he might bring them bound to Jerusalem. 3 As he journeyed he came near Damascus, and suddenly a light shone around him from heaven. 4 Then he fell to the ground, and heard a voice saying to him, "Saul, Saul, why are you persecuting Me?" 5 And he said, "Who are You, Lord?" Then the Lord said, "I am Jesus, whom you are persecuting. It is hard for you to kick against the goads." 6 So he, trembling and astonished, said, "Lord, what do You want me to do?" Then the Lord said to him, "Arise and go into the city, and you will be told what you must do." 7 And the men who journeyed with him stood speechless, hearing a voice but seeing no one. 8 Then Saul arose from the ground, and when his eyes were opened he saw no one. But they led him by the hand and brought him into Damascus. 9 And he was three days without sight, and neither ate nor drank. 10 Now there was a certain disciple at Damascus named Ananias; and to him the Lord said in a vision, "Ananias." And he said, "Here I am, Lord." 11 So the Lord said to him, "Arise and go to the street called Straight, and inquire at the house of Judas for one called Saul of Tarsus, for behold, he is praying. 12 And in a vision he has seen a man named Ananias coming in and putting his hand on him, so that he might receive his sight." 13 Then Ananias answered, "Lord, I have heard from many about this man, how much harm he has done to Your saints in Jerusalem. 14 And here he has authority from the chief priests to bind all who call on Your name." 15 But the Lord said to him, "Go, for he is a chosen vessel of Mine to bear My name before Gentiles, kings, and the children of Israel. 16 For I will show him how many things he must suffer for My name's sake."
Luke 14:25-35
25 Now great multitudes went with Him. And He turned and said to them, 26 "If anyone comes to Me and does not hate his father and mother, wife and children, brothers and sisters, yes, and his own life also, he cannot be My disciple. 27 And whoever does not bear his cross and come after Me cannot be My disciple. 28 For which of you, intending to build a tower, does not sit down first and count the cost, whether he has enough to finish it— 29 lest, after he has laid the foundation, and is not able to finish, all who see it begin to mock him, 30 saying, 'This man began to build and was not able to finish'? 31 Or what king, going to make war against another king, does not sit down first and consider whether he is able with ten thousand to meet him who comes against him with twenty thousand? 32 Or else, while the other is still a great way off, he sends a delegation and asks conditions of peace. 33 So likewise, whoever of you does not forsake all that he has cannot be My disciple. 34 "Salt is good; but if the salt has lost its flavor, how shall it be seasoned? 35 It is neither fit for the land nor for the dunghill, but men throw it out. He who has ears to hear, let him hear!"