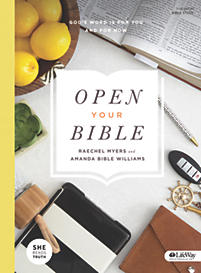 Beginning April 17th @ 5:30 PM
A 7 week video based Bible study
by Raechel Myers & Amanda Williams
We're all longing to hear from God,
aching to know who He is and know His heart.
The beautiful truth is this – we can encounter
the living God today in the pages of His Word.
The Bible is for you and for now.
Looking forward to studying the Word of God
with you!!! Cost of study guide is $15.00
SIGN UP IN THE FOYER TODAY!!!