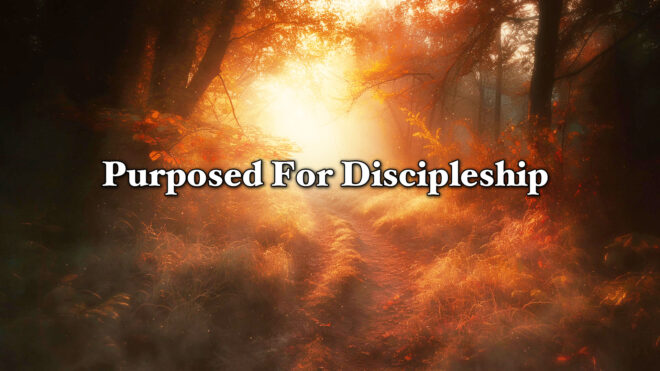 Disciples Making Disciples
Matthew 28:18-20
18 And Jesus came and spoke to them, saying, "All authority has been given to Me in heaven and on earth. 19 Go therefore and make disciples of all the nations, baptizing them in the name of the Father and of the Son and of the Holy Spirit, 20 teaching them to observe all things that I have commanded you; and lo, I am with you always, even to the end of the age." Amen.
Acts 14:19-26
19 Then Jews from Antioch and Iconium came there; and having persuaded the multitudes, they stoned Paul and dragged him out of the city, supposing him to be dead. 20 However, when the disciples gathered around him, he rose up and went into the city. And the next day he departed with Barnabas to Derbe. 21 And when they had preached the gospel to that city and made many disciples, they returned to Lystra, Iconium, and Antioch, 22 strengthening the souls of the disciples, exhorting them to continue in the faith, and saying, "We must through many tribulations enter the kingdom of God." 23 So when they had appointed elders in every church, and prayed with fasting, they commended them to the Lord in whom they had believed. 24 And after they had passed through Pisidia, they came to Pamphylia. 25 Now when they had preached the word in Perga, they went down to Attalia. 26 From there they sailed to Antioch, where they had been commended to the grace of God for the work which they had completed.
What Disciples Are Made Of
A Disciple Strives To:
Abide in His Word
John 8:28-36
28 Then Jesus said to them, "When you lift up the Son of Man, then you will know that I am He, and that I do nothing of Myself; but as My Father taught Me, I speak these things. 29 And He who sent Me is with Me. The Father has not left Me alone, for I always do those things that please Him." 30 As He spoke these words, many believed in Him. 31 Then Jesus said to those Jews who believed Him, "If you abide in My word, you are My disciples indeed. 32 And you shall know the truth, and the truth shall make you free." 33 They answered Him, "We are Abraham's descendants, and have never been in bondage to anyone. How can You say, 'You will be made free'?" 34 Jesus answered them, "Most assuredly, I say to you, whoever commits sin is a slave of sin. 35 And a slave does not abide in the house forever, but a son abides forever. 36 Therefore if the Son makes you free, you shall be free indeed.
A Disciple Strives To:
Love fellow Disciples
John 13:31-35
31 So, when he had gone out, Jesus said, "Now the Son of Man is glorified, and God is glorified in Him. 32 If God is glorified in Him, God will also glorify Him in Himself, and glorify Him immediately. 33 Little children, I shall be with you a little while longer. You will seek Me; and as I said to the Jews, 'Where I am going, you cannot come,' so now I say to you. 34 A new commandment I give to you, that you love one another; as I have loved you, that you also love one another. 35 By this all will know that you are My disciples, if you have love for one another."
A Disciple Strives To:
Be ALL-IN for Christ
Mark 8:34-38
34 When He had called the people to Himself, with His disciples also, He said to them, "Whoever desires to come after Me, let him deny himself, and take up his cross, and follow Me. 35 For whoever desires to save his life will lose it, but whoever loses his life for My sake and the gospel's will save it. 36 For what will it profit a man if he gains the whole world, and loses his own soul? 37 Or what will a man give in exchange for his soul? 38 For whoever is ashamed of Me and My words in this adulterous and sinful generation, of him the Son of Man also will be ashamed when He comes in the glory of His Father with the holy angels."
A Disciple Strives To:
Be Like Christ
Luke 6:39-45
39 And He spoke a parable to them: "Can the blind lead the blind? Will they not both fall into the ditch? 40 A disciple is not above his teacher, but everyone who is perfectly trained will be like his teacher. 41 And why do you look at the speck in your brother's eye, but do not perceive the plank in your own eye? 42 Or how can you say to your brother, 'Brother, let me remove the speck that is in your eye,' when you yourself do not see the plank that is in your own eye? Hypocrite! First remove the plank from your own eye, and then you will see clearly to remove the speck that is in your brother's eye. 43 "For a good tree does not bear bad fruit, nor does a bad tree bear good fruit. 44 For every tree is known by its own fruit. For men do not gather figs from thorns, nor do they gather grapes from a bramble bush. 45 A good man out of the good treasure of his heart brings forth good; and an evil man out of the evil treasure of his heart brings forth evil. For out of the abundance of the heart his mouth speaks.
A Disciple Strives To:
Serve
Mark 10:35-45
35 Then James and John, the sons of Zebedee, came to Him, saying, "Teacher, we want You to do for us whatever we ask." 36 And He said to them, "What do you want Me to do for you?" 37 They said to Him, "Grant us that we may sit, one on Your right hand and the other on Your left, in Your glory." 38 But Jesus said to them, "You do not know what you ask. Are you able to drink the cup that I drink, and be baptized with the baptism that I am baptized with?" 39 They said to Him, "We are able." So Jesus said to them, "You will indeed drink the cup that I drink, and with the baptism I am baptized with you will be baptized; 40 but to sit on My right hand and on My left is not Mine to give, but it is for those for whom it is prepared." 41 And when the ten heard it, they began to be greatly displeased with James and John. 42 But Jesus called them to Himself and said to them, "You know that those who are considered rulers over the Gentiles lord it over them, and their great ones exercise authority over them. 43 Yet it shall not be so among you; but whoever desires to become great among you shall be your servant. 44 And whoever of you desires to be first shall be slave of all. 45 For even the Son of Man did not come to be served, but to serve, and to give His life a ransom for many."
OLD, BOLD, and MOLD
Hebrews 5:12-14
12 For though by this time you ought to be teachers, you need someone to teach you again the first principles of the oracles of God; and you have come to need milk and not solid food. 13 For everyone who partakes only of milk is unskilled in the word of righteousness, for he is a babe. 14 But solid food belongs to those who are of full age, that is, those who by reason of use have their senses exercised to discern both good and evil.
Old
Philippians 2:19-22
19 But I trust in the Lord Jesus to send Timothy to you shortly, that I also may be encouraged when I know your state. 20 For I have no one like-minded, who will sincerely care for your state. 21 For all seek their own, not the things which are of Christ Jesus. 22 But you know his proven character, that as a son with his father he served with me in the gospel.
Bold
Acts 18:24-28
24 Now a certain Jew named Apollos, born at Alexandria, an eloquent man and mighty in the Scriptures, came to Ephesus. 25 This man had been instructed in the way of the Lord; and being fervent in spirit, he spoke and taught accurately the things of the Lord, though he knew only the baptism of John. 26 So he began to speak boldly in the synagogue. When Aquila and Priscilla heard him, they took him aside and explained to him the way of God more accurately. 27 And when he desired to cross to Achaia, the brethren wrote, exhorting the disciples to receive him; and when he arrived, he greatly helped those who had believed through grace; 28 for he vigorously refuted the Jews publicly, showing from the Scriptures that Jesus is the Christ.
Mold
Acts 16:1-5
16 Then he came to Derbe and Lystra. And behold, a certain disciple was there, named Timothy, the son of a certain Jewish woman who believed, but his father was Greek. 2 He was well spoken of by the brethren who were at Lystra and Iconium. 3 Paul wanted to have him go on with him. And he took him and circumcised him because of the Jews who were in that region, for they all knew that his father was Greek. 4 And as they went through the cities, they delivered to them the decrees to keep, which were determined by the apostles and elders at Jerusalem. 5 So the churches were strengthened in the faith, and increased in number daily.