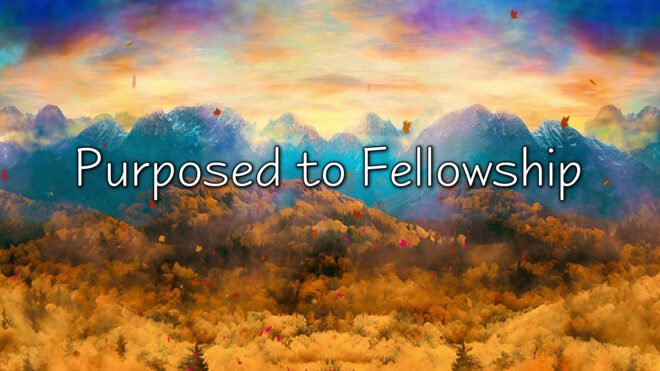 The blood-line of fellowship
I John 1:1-7
1 That which was from the beginning, which we have heard, which we have seen with our eyes, which we have looked upon, and our hands have handled, concerning the Word of life— 2 the life was manifested, and we have seen, and bear witness, and declare to you that eternal life which was with the Father and was manifested to us— 3 that which we have seen and heard we declare to you, that you also may have fellowship with us; and truly our fellowship is with the Father and with His Son Jesus Christ. 4 And these things we write to you that your joy may be full. 5 This is the message which we have heard from Him and declare to you, that God is light and in Him is no darkness at all. 6 If we say that we have fellowship with Him, and walk in darkness, we lie and do not practice the truth. 7 But if we walk in the light as He is in the light, we have fellowship with one another, and the blood of Jesus Christ His Son cleanses us from all sin.
I Corinthians 10:14-17
14 Therefore, my beloved, flee from idolatry. 15 I speak as to wise men; judge for yourselves what I say. 16 The cup of blessing which we bless, is it not the communion of the blood of Christ? The bread which we break, is it not the communion of the body of Christ? 17 For we, though many, are one bread and one body; for we all partake of that one bread.
The Oneness of fellowship
John 17:20-23
20 "I do not pray for these alone, but also for those who will believe in Me through their word; 21 that they all may be one, as You, Father, are in Me, and I in You; that they also may be one in Us, that the world may believe that You sent Me. 22 And the glory which You gave Me I have given them, that they may be one just as We are one: 23 I in them, and You in Me; that they may be made perfect in one, and that the world may know that You have sent Me, and have loved them as You have loved Me.
The investment of fellowship
Hebrews 10:19-25
19 Therefore, brethren, having boldness to enter the Holiest by the blood of Jesus, 20 by a new and living way which He consecrated for us, through the veil, that is, His flesh, 21 and having a High Priest over the house of God, 22 let us draw near with a true heart in full assurance of faith, having our hearts sprinkled from an evil conscience and our bodies washed with pure water. 23 Let us hold fast the confession of our hope without wavering, for He who promised is faithful. 24 And let us consider one another in order to stir up love and good works, 25 not forsaking the assembling of ourselves together, as is the manner of some, but exhorting one another, and so much the more as you see the Day approaching.
Acts 2:40-47
40 And with many other words he testified and exhorted them, saying, "Be saved from this perverse generation." 41 Then those who gladly received his word were baptized; and that day about three thousand souls were added to them. 42 And they continued steadfastly in the apostles' doctrine and fellowship, in the breaking of bread, and in prayers. 43 Then fear came upon every soul, and many wonders and signs were done through the apostles. 44 Now all who believed were together, and had all things in common, 45 and sold their possessions and goods, and divided them among all, as anyone had need. 46 So continuing daily with one accord in the temple, and breaking bread from house to house, they ate their food with gladness and simplicity of heart, 47 praising God and having favor with all the people. And the Lord added to the church daily those who were being saved.