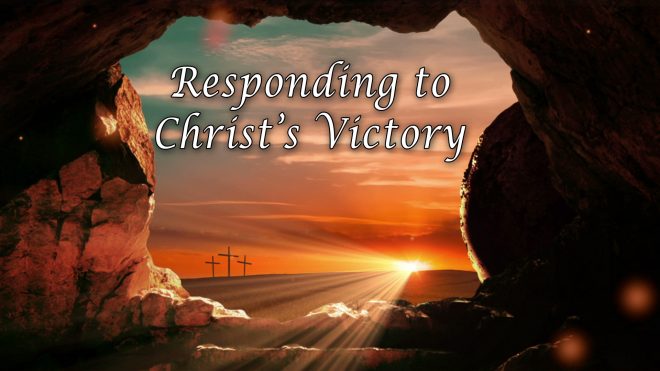 Christ's victory was the best kind of surprise.
Matthew 28:5-7
5 The angel said to the women, "Do not be afraid, for I know that you are looking for Jesus, who was crucified. 6 He is not here; he has risen, just as he said. Come and see the place where he lay. 7 Then go quickly and tell his disciples: 'He has risen from the dead and is going ahead of you into Galilee. There you will see him.' Now I have told you."
Christ's victory evoked the deepest joy, peace, and love.
Matthew 28:8
8 So the women hurried away from the tomb, afraid yet filled with joy, and ran to tell his disciples.
John 20:19-21
19 On the evening of that first day of the week, when the disciples were together, with the doors locked for fear of the Jewish leaders, Jesus came and stood among them and said, "Peace be with you!" 20 After he said this, he showed them his hands and side. The disciples were overjoyed when they saw the Lord.
21 Again Jesus said, "Peace be with you! As the Father has sent me, I am sending you."
John 20:26-29
26 A week later his disciples were in the house again, and Thomas was with them. Though the doors were locked, Jesus came and stood among them and said, "Peace be with you!" 27 Then he said to Thomas, "Put your finger here; see my hands. Reach out your hand and put it into my side. Stop doubting and believe."
28 Thomas said to him, "My Lord and my God!"
29 Then Jesus told him, "Because you have seen me, you have believed; blessed are those who have not seen and yet have believed."
Luke 24:45-53
45 Then he opened their minds so they could understand the Scriptures. 46 He told them, "This is what is written: The Messiah will suffer and rise from the dead on the third day, 47 and repentance for the forgiveness of sins will be preached in his name to all nations, beginning at Jerusalem. 48 You are witnesses of these things. 49 I am going to send you what my Father has promised; but stay in the city until you have been clothed with power from on high."
50 When he had led them out to the vicinity of Bethany, he lifted up his hands and blessed them. 51 While he was blessing them, he left them and was taken up into heaven. 52 Then they worshiped him and returned to Jerusalem with great joy. 53 And they stayed continually at the temple, praising God.
Christ's victory inspired a new kind of courage and boldness.
Matthew 28:19-20
19 Therefore go and make disciples of all nations, baptizing them in the name of the Father and of the Son and of the Holy Spirit, 20 and teaching them to obey everything I have commanded you. And surely I am with you always, to the very end of the age."
Acts 4:8-13 8 Then Peter, filled with the Holy Spirit, said to them: "Rulers and elders of the people! 9 If we are being called to account today for an act of kindness shown to a man who was lame and are being asked how he was healed, 10 then know this, you and all the people of Israel: It is by the name of Jesus Christ of Nazareth, whom you crucified but whom God raised from the dead, that this man stands before you healed. 11 Jesus is "'the stone you builders rejected, which has become the cornerstone.'
12 Salvation is found in no one else, for there is no other name under heaven given to mankind by which we must be saved."
13 When they saw the courage of Peter and John and realized that they were unschooled, ordinary men, they were astonished and they took note that these men had been with Jesus.
Acts 4:31
31 After they prayed, the place where they were meeting was shaken. And they were all filled with the Holy Spirit and spoke the word of God boldly.
Colossians 2:13-1513 When you were dead in your sins and in the uncircumcision of your flesh, God made you alive with Christ. He forgave us all our sins, 14 having canceled the charge of our legal indebtedness, which stood against us and condemned us; he has taken it away, nailing it to the cross. 15 And having disarmed the powers and authorities, he made a public spectacle of them, triumphing over them by the cross.
YouTube Live
Facebook Live