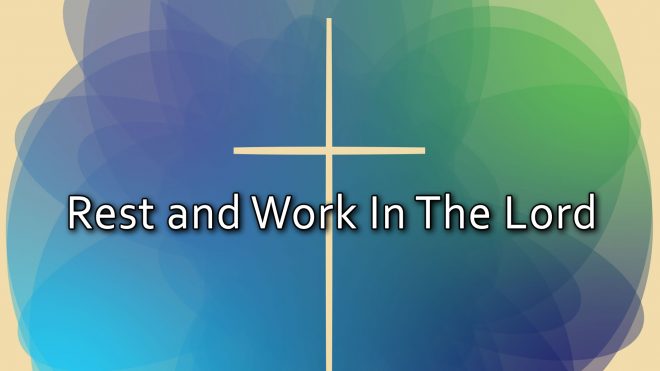 1. We rest in the Lord for our salvation.
8 For if Joshua had given them rest, God would not have spoken later about another day. 9 There remains, then, a Sabbath-rest for the people of God; 10 for anyone who enters God's rest also rests from their works, just as God did from his. 11 Let us, therefore, make every effort to enter that rest, so that no one will perish by following their example of disobedience.
Hebrews 4:8-11
8 For it is by grace you have been saved, through faith—and this is not from yourselves, it is the gift of God— 9 not by works, so that no one can boast.
Ephesians 2:8-9
16 Then Jesus said to his disciples, "Whoever wants to be my disciple must deny themselves and take up their cross and follow me. Matthew 16:24
24 Those who belong to Christ Jesus have crucified the flesh with its passions and desires.
Galatians 5:24
God has had mercy on us.
2. We work for the Lord as a grateful disciple.
7 The people served the Lord throughout the lifetime of Joshua and of the elders who outlived him and who had seen all the great things the Lord had done for Israel. Judges 2:7
19 Therefore go and make disciples of all nations, baptizing them in the name of the Father and of the Son and of the Holy Spirit, 20 and teaching them to obey everything I have commanded you. And surely I am with you always, to the very end of the age."
Matthew 28:19-20
8 But you will receive power when the Holy Spirit comes on you; and you will be my witnesses in Jerusalem, and in all Judea and Samaria, and to the ends of the earth."
Acts 1:8
4 "Suppose one of you has a hundred sheep and loses one of them. Doesn't he leave the ninety-nine in the open country and go after the lost sheep until he finds it?
Luke 15:4
18 As Jesus was getting into the boat, the man who had been demon-possessed begged to go with him. 19 Jesus did not let him, but said, "Go home to your own people and tell them how much the Lord has done for you, and how he has had mercy on you." 20 So the man went away and began to tell in the Decapolis how much Jesus had done for him. And all the people were amazed.
Mark 5:18-20
We now join God in His mission.
3. Our labor is a labor of love.
16 For God so loved the world that he gave his one and only Son, that whoever believes in him shall not perish but have eternal life.
John 3:16
24 But be sure to fear the LORD and serve him faithfully with all your heart; consider what great things he has done for you.
1 Samuel 12:24
10 But by the grace of God I am what I am, and his grace to me was not without effect. No, I worked harder than all of them—yet not I, but the grace of God that was with me.
1 Corinthians 15:10
58 Therefore, my dear brothers and sisters, stand firm. Let nothing move you. Always give yourselves fully to the work of the Lord, because you know that your labor in the Lord is not in vain.
1 Corinthians 15:58
Who is your one?