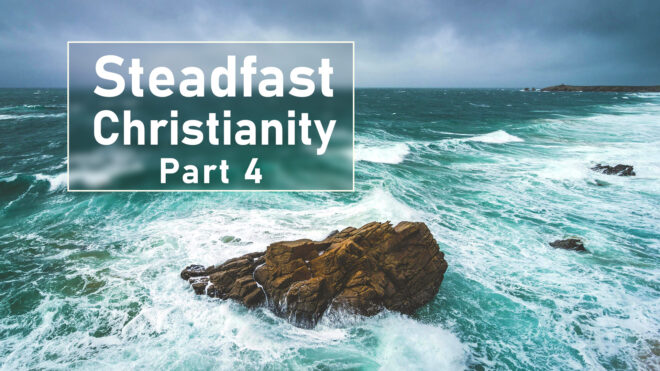 Steadfast Christianity practices mutuality.
1 Thessalonians 3:6   
But Timothy has just now come to us from you and has brought good news about your faith and love. He has told us that you always have pleasant memories of us and that you long to see us, just as we also long to see you.
2 Corinthians 6:11-13      
We have spoken freely to you, Corinthians, and opened wide our hearts to you. 12 We are not withholding our affection from you, but you are withholding yours from us. 13 As a fair exchange—I speak as to my children—open wide your hearts also.
Steadfast Christianity participates in each other's suffering.
1 Thessalonians 3:7-8    
Therefore, brothers and sisters, in all our distress and persecution we were encouraged about you because of your faith. 8 For now we really live, since you are standing firm in the Lord.
Galatians 6:2       
Carry each other's burdens, and in this way you will fulfill the law of Christ.
Steadfast Christianity expresses joy in the presence of God.
1 Thessalonians 3:9      
How can we thank God enough for you in return for all the joy we have in the presence of our God because of you?
Psalm 100:4    
Enter his gates with thanksgiving and his courts with praise; give thanks to him and praise his name.
Steadfast Christianity persistently prays for God's provision.
1 Thessalonians 3:10    
Night and day we pray most earnestly that we may see you again and supply what is lacking in your faith.
Luke 18:1    
Then Jesus told his disciples a parable to show them that they should always pray and not give up.
Philippians 4:19     
And my God will meet all your needs according to the riches of his glory in Christ Jesus.
Steadfast Christianity prepares for the second coming of Christ.
1 Thessalonians 3:11-13    
Now may our God and Father himself and our Lord Jesus clear the way for us to come to you. 12 May the Lord make your love increase and overflow for each other and for everyone else, just as ours does for you. 13 May he strengthen your hearts so that you will be blameless and holy in the presence of our God and Father when our Lord Jesus comes with all his holy ones.
1 Thessalonians 4:16     
For the Lord himself will come down from heaven, with a loud command, with the voice of the archangel and with the trumpet call of God, and the dead in Christ will rise first.