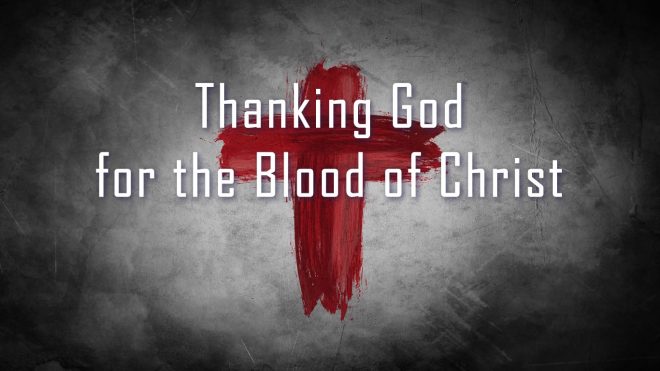 Ephesians 2:1-10
1. The blood brings us near to God.
But now in Christ Jesus you who once were far away have been brought near by the blood of Christ. Ephesians 2:13
2. The blood cleanses our sin.
But if we walk in the light, as he is in the light, we have fellowship with one another, and the blood of Jesus, his Son, purifies us from all sin. If we claim to be without sin, we deceive ourselves and the truth is not in us. If we confess our sins, he is faithful and just and will forgive us our sins and purify us from all unrighteousness. If we claim we have not sinned, we make him out to be a liar and his word is not in us. 1 John 1:7-10
In fact, the law requires that nearly everything be cleansed with blood, and without the shedding of blood there is no forgiveness. Hebrews 9:22
Otherwise, would they not have stopped being offered? For the worshipers would have been cleansed once for all, and would no longer have felt guilty for their sins. But those sacrifices are an annual reminder of sins. It is impossible for the blood of bulls and goats to take away sins. Hebrews 10:2-4
Therefore, brothers and sisters, since we have confidence to enter the Most Holy Place by the blood of Jesus, by a new and living way opened for us through the curtain, that is, his body, and since we have a great priest over the house of God, let us draw near to God with a sincere heart and with the full assurance that faith brings, having our hearts sprinkled to cleanse us from a guilty conscience and having our bodies washed with pure water. Hebrews 10:19-22
3. The blood covers our sin.
Make an atonement cover of pure gold—two and a half cubits long and a cubit and a half wide. Exodus 25:17
But now apart from the law the righteousness of God has been made known, to which the Law and the Prophets testify. This righteousness is given through faith in Jesus Christ to all who believe. There is no difference between Jew and Gentile, for all have sinned and fall short of the glory of God, and all are justified freely by his grace through the redemption that came by Christ Jesus. God presented Christ as a sacrifice of atonement, through the shedding of his blood—to be received by faith. He did this to demonstrate his righteousness, because in his forbearance he had left the sins committed beforehand unpunished— he did it to demonstrate his righteousness at the present time, so as to be just and the one who justifies those who have faith in Jesus. Romans 3:21-26
For this reason he had to be made like them, fully human in every way, in order that he might become a merciful and faithful high priest in service to God, and that he might make atonement for the sins of the people. Hebrews 2:17
Above the ark were the cherubim of the Glory, overshadowing the atonement cover. But we cannot discuss these things in detail now. When everything had been arranged like this, the priests entered regularly into the outer room to carry on their ministry. But only the high priest entered the inner room, and that only once a year, and never without blood, which he offered for himself and for the sins the people had committed in ignorance. The Holy Spirit was showing by this that the way into the Most Holy Place had not yet been disclosed as long as the first tabernacle was still functioning. This is an illustration for the present time, indicating that the gifts and sacrifices being offered were not able to clear the conscience of the worshiper. They are only a matter of food and drink and various ceremonial washings—external regulations applying until the time of the new order. But when Christ came as high priest of the good things that are now already here, he went through the greater and more perfect tabernacle that is not made with human hands, that is to say, is not a part of this creation. He did not enter by means of the blood of goats and calves; but he entered the Most Holy Place once for all by his own blood, thus obtaining eternal redemption. The blood of goats and bulls and the ashes of a heifer sprinkled on those who are ceremonially unclean sanctify them so that they are outwardly clean. How much more, then, will the blood of Christ, who through the eternal Spirit offered himself unblemished to God, cleanse our consciences from acts that lead to death, so that we may serve the living God! Hebrews 9:5-14
The next day John saw Jesus coming toward him and said, "Look, the Lamb of God, who takes away the sin of the world! John 1:29