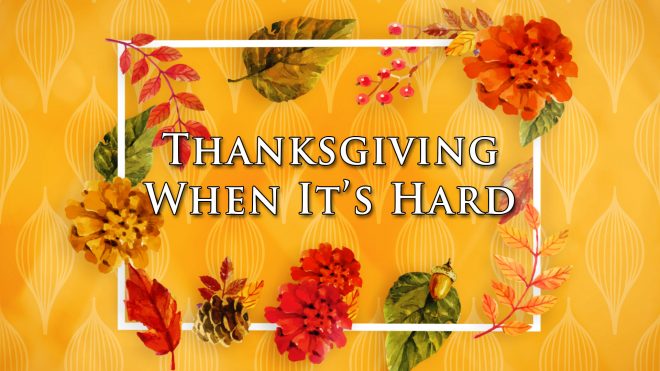 1. Thanksgiving when you feel you're lacking faith.
Psalm 22:1-2
My God, my God, why have you forsaken me? Why are you so far from saving me, so far from my cries of anguish? My God, I cry out by day, but you do not answer, by night, but I find no rest.
Psalm 22:3-5
Yet you are enthroned as the Holy One; you are the one Israel praises. In you our ancestors put their trust; they trusted and you delivered them. To you they cried out and were saved; in you they trusted and were not put to shame.
2. Thanksgiving when you're feel you're lamenting your faults.
Psalm 51:3-4
For I know my transgressions, and my sin is always before me. Against you, you only, have I sinned and done what is evil in your sight; so you are right in your verdict and justified when you judge.
Psalm 51:14-17
Deliver me from the guilt of bloodshed, O God, you who are God my Savior, and my tongue will sing of your righteousness. Open my lips, Lord, and my mouth will declare your praise. You do not delight in sacrifice, or I would bring it; you do not take pleasure in burnt offerings. My sacrifice, O God, is a broken spirit; a broken and contrite heart you, God, will not despise.
3. Thanksgiving when you feel lonely for fellowship.
Psalm 27:10-14
Though my father and mother forsake me, the Lord will receive me. Teach me your way, Lord; lead me in a straight path because of my oppressors. Do not turn me over to the desire of my foes, for false witnesses rise up against me, spouting malicious accusations. I remain confident of this: I will see the goodness of the Lord in the land of the living. Wait for the Lord; be strong and take heart and wait for the Lord.
Psalm 88:18
You have taken from me friend and neighbor—darkness is my closest friend.
Psalm 88:1
Lord, you are the God who saves me; day and night I cry out to you.
4. Thanksgiving when you're feel you're losing the fight.
Psalm 71:17-21
Since my youth, God, you have taught me, and to this day I declare your marvelous deeds. Even when I am old and gray, do not forsake me, my God, till I declare your power to the next generation, your mighty acts to all who are to come. Your righteousness, God, reaches to the heavens, you who have done great things. Who is like you, God? Though you have made me see troubles, many and bitter, you will restore my life again; from the depths of the earth you will again bring me up. You will increase my honor and comfort me once more.
Psalm 71:9-12
Do not cast me away when I am old; do not forsake me when my strength is gone. For my enemies speak against me; those who wait to kill me conspire together. They say, "God has forsaken him; pursue him and seize him, for no one will rescue him." Do not be far from me, my God; come quickly, God, to help me.
Psalm 118:1
Give thanks to the Lord, for he is good; his love endures forever.
Psalm 118:13-14
I was pushed back and about to fall, but the Lord helped me. The Lord is my strength and my defense; he has become my salvation.
Psalm 118:27-29
The Lord is God, and he has made his light shine on us. With boughs in hand, join in the festal procession up to the horns of the altar. You are my God, and I will praise you; you are my God, and I will exalt you. Give thanks to the Lord, for he is good; his love endures forever.