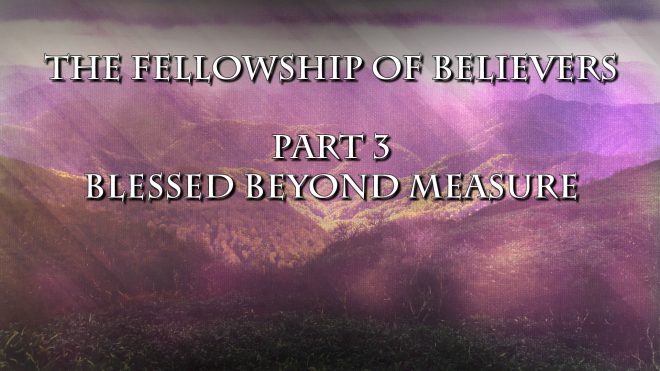 1. Blessed in general.
Ecclesiastes 4:7-12
Again I saw something meaningless under the sun:There was a man all alone; he had neither son nor brother. There was no end to his toil, yet his eyes were not content with his wealth. "For whom am I toiling," he asked, "and why am I depriving myself of enjoyment?" This too is meaningless—a miserable business!Two are better than one, because they have a good return for their labor: If either of them falls down, one can help the other up. But pity anyone who falls and has no one to help them up. Also, if two lie down together, they will keep warm. But how can one keep warm alone? Though one may be overpowered, two can defend themselves. A cord of three strands is not quickly broken.
2. Blessed from the beginning.
Acts 4:32-35
All the believers were one in heart and mind. No one claimed that any of their possessions was their own, but they shared everything they had. With great power the apostles continued to testify to the resurrection of the Lord Jesus. And God's grace was so powerfully at work in them allthat there were no needy persons among them. For from time to time those who owned land or houses sold them, brought the money from the sales and put it at the apostles' feet, and it was distributed to anyone who had need.
3. Blessed beyond measure.
Philippians 1:4-7
In all my prayers for all of you, I always pray with joy because of your partnership in the gospel from the first day until now, being confident of this, that he who began a good work in you will carry it on to completion until the day of Christ Jesus.It is right for me to feel this way about all of you, since I have you in my heart and, whether I am in chains or defending and confirming the gospel, all of you share in God's grace with me.
Philemon 1:4-7
I always thank my God as I remember you in my prayers, because I hear about your love for all his holy people and your faith in the Lord Jesus. I pray that your partnership with us in the faith may be effective in deepening your understanding of every good thing we share for the sake of Christ. Your love has given me great joy and encouragement, because you, brother, have refreshed the hearts of the Lord's people.