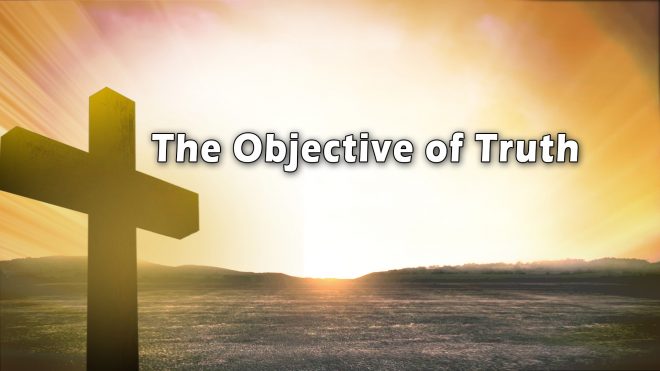 Zechariah 8:16-17
"These are the things you shall do: Speak each man the truth to his neighbor; Give judgment in your gates for truth, justice, and peace; Let none of you think evil in your heart against your neighbor; And do not love a false oath.
For all these are things that I hate,' Says the Lord."
I. Pilate's Question.
John 18:36-38
36 Jesus answered, "My kingdom is not of this world. If My kingdom were of this world, My servants would fight, so that I should not be delivered to the Jews; but now My kingdom is not from here." 37 Pilate therefore said to Him, "Are You a king then?" Jesus answered, "You say rightly that I am a king. For this cause I was born, and for this cause I have come into the world, that I should bear witness to the truth. Everyone who is of the truth hears My voice." 38 Pilate said to Him, "What is truth?" And when he had said this, he went out again to the Jews, and said to them, "I find no fault in Him at all.
II. The danger of subjective truth.
II Timothy 3:1-4:5
3 But know this, that in the last days perilous times will come: 2 For men will be lovers of themselves, lovers of money, boasters, proud, blasphemers, disobedient to parents, unthankful, unholy, 3 unloving, unforgiving, slanderers, without self-control, brutal, despisers of good, 4 traitors, headstrong, haughty, lovers of pleasure rather than lovers of God, 5 having a form of godliness but denying its power. And from such people turn away! 6 For of this sort are those who creep into households and make captives of gullible women loaded down with sins, led away by various lusts, 7 always learning and never able to come to the knowledge of the truth. 8 Now as Jannes and Jambres resisted Moses, so do these also resist the truth: men of corrupt minds, disapproved concerning the faith; 9 but they will progress no further, for their folly will be manifest to all, as theirs also was. 10 But you have carefully followed my doctrine, manner of life, purpose, faith, longsuffering, love, perseverance, 11 persecutions, afflictions, which happened to me at Antioch, at Iconium, at Lystra—what persecutions I endured. And out of them all the Lord delivered me. 12 Yes, and all who desire to live godly in Christ Jesus will suffer persecution. 13 But evil men and impostors will grow worse and worse, deceiving and being deceived. 14 But you must continue in the things which you have learned and been assured of, knowing from whom you have learned them, 15 and that from childhood you have known the Holy Scriptures, which are able to make you wise for salvation through faith which is in Christ Jesus. 16 All Scripture is given by inspiration of God, and is profitable for doctrine, for reproof, for correction, for instruction in righteousness, 16 All Scripture is given by inspiration of God, and is profitable for doctrine, for reproof, for correction, for instruction in righteousness, 17 that the man of God may be complete, thoroughly equipped for every good work. 4 I charge you therefore before God and the Lord Jesus Christ, who will judge the living and the dead at His appearing and His kingdom: 2 Preach the word! Be ready in season and out of season. Convince, rebuke, exhort, with all longsuffering and teaching. 3 For the time will come when they will not endure sound doctrine, but according to their own desires, because they have itching ears, they will heap up for themselves teachers; 4 and they will turn their ears away from the truth, and be turned aside to fables. 5 But you be watchful in all things, endure afflictions, do the work of an evangelist, fulfill your ministry.
II Peter 3:14-18
14 Therefore, beloved, looking forward to these things, be diligent to be found by Him in peace, without spot and blameless; 15 and consider that the longsuffering of our Lord is salvation—as also our beloved brother Paul, according to the wisdom given to him, has written to you, 16 as also in all his epistles, speaking in them of these things, in which are some things hard to understand, which untaught and unstable people twist to their own destruction, as they do also the rest of the Scriptures. 17 You therefore, beloved, since you know this beforehand, beware lest you also fall from your own steadfastness, being led away with the error of the wicked; 18 but grow in the grace and knowledge of our Lord and Savior Jesus Christ. To Him be the glory both now and forever. Amen.
III. The lie of corrupted truth.
John 8:44-47
44 You are of your father the devil, and the desires of your father you want to do. He was a murderer from the beginning, and does not stand in the truth, because there is no truth in him. When he speaks a lie, he speaks from his own resources, for he is a liar and the father of it. 45 But because I tell the truth, you do not believe Me. 46 Which of you convicts Me of sin? And if I tell the truth, why do you not believe Me? 47 He who is of God hears God's words; therefore you do not hear, because you are not of God."
Matthew 4:1-6
1 Then Jesus was led up by the Spirit into the wilderness to be tempted by the devil. 2 And when He had fasted forty days and forty nights, afterward He was hungry. 3 Now when the tempter came to Him, he said, "If You are the Son of God, command that these stones become bread." 4 But He answered and said, "It is written, 'Man shall not live by bread alone, but by every word that proceeds from the mouth of God.' " 5 Then the devil took Him up into the holy city, set Him on the pinnacle of the temple, 6 and said to Him, "If You are the Son of God, throw Yourself down. For it is written: 'He shall give His angels charge over you,' and, 'In their hands they shall bear you up, Lest you dash your foot against a stone.' "
IV. The Answer to Pilate's question was standing right in front of him.
John 14:5-7
5 Thomas said to Him, "Lord, we do not know where You are going, and how can we know the way?" 6 Jesus said to him, "I am the way, the truth, and the life. No one comes to the Father except through Me. 7 "If you had known Me, you would have known My Father also; and from now on you know Him and have seen Him."
John 8:31-36
31 Then Jesus said to those Jews who believed Him, "If you abide in My word, you are My disciples indeed. 32 And you shall know the truth, and the truth shall make you free." 33 They answered Him, "We are Abraham's descendants, and have never been in bondage to anyone. How can You say, 'You will be made free'?" 34 Jesus answered them, "Most assuredly, I say to you, whoever commits sin is a slave of sin. 35 And a slave does not abide in the house forever, but a son abides forever. 36 Therefore if the Son makes you free, you shall be free indeed.