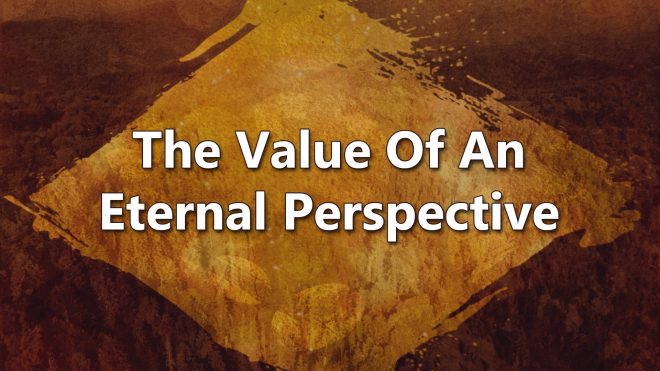 1. An eternal perspective changes the way we see God
Isaiah 55:9
As the heavens are higher than the earth, so are my ways higher than your ways and my thoughts than your thoughts.
Psalm 99:9
Exalt the Lord our God and worship at his holy mountain, for the Lord our God is holy.
2. An eternal perspective changes the way we see ourselves.
Romans 8:29
For those God foreknew he also predestined to be conformed to the image of his Son, that he might be the firstborn among many brothers and sisters.
Ephesians 1:3-6
Praise be to the God and Father of our Lord Jesus Christ, who has blessed us in the heavenly realms with every spiritual blessing in Christ. For he chose us in him before the creation of the world to be holy and blameless in his sight. In love he predestined us for adoption to sonship through Jesus Christ, in accordance with his pleasure and will— to the praise of his glorious grace, which he has freely given us in the One he loves.
3. An eternal perspective change the way we see others.
2 Corinthians 5:16-17
So from now on we regard no one from a worldly point of view. Though we once regarded Christ in this way, we do so no longer. Therefore, if anyone is in Christ, the new creation has come: The old has gone, the new is here!
Luke 23:34
Jesus said, "Father, forgive them, for they do not know what they are doing." And they divided up his clothes by casting lots.
Mark 11:25
And when you stand praying, if you hold anything against anyone, forgive them, so that your Father in heaven may forgive you your sins.
4. An eternal perspective changes the way we see Satan and sin.
John 10:10
The thief comes only to steal and kill and destroy; I have come that they may have life, and have it to the full.
John 8:44
You belong to your father, the devil, and you want to carry out your father's desires. He was a murderer from the beginning, not holding to the truth, for there is no truth in him. When he lies, he speaks his native language, for he is a liar and the father of lies.
Romans 6:23
For the wages of sin is death, but the gift of God is eternal life in Christ Jesus our Lord.
Acts 3:19
Repent, then, and turn to God, so that your sins may be wiped out, that times of refreshing may come from the Lord,