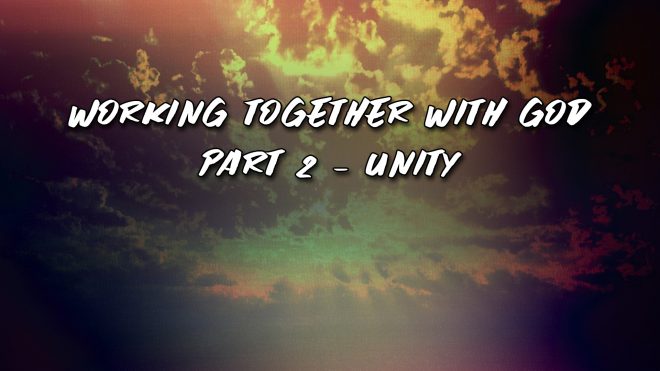 Working together with God requires unity.
Ephesians 4:1-6
As a prisoner for the Lord, then, I urge you to live a life worthy of the calling you have received. 2 Be completely humble and gentle; be patient, bearing with one another in love. 3 Make every effort to keep the unity of the Spirit through the bond of peace. 4 There is one body and one Spirit, just as you were called to one hope when you were called; 5 one Lord, one faith, one baptism; 6 one God and Father of all, who is over all and through all and in all.
2. Working together with God requires us to give up our self-centeredness.
Ephesians 5:21-28
21 Submit to one another out of reverence for Christ. 22 Wives, submit yourselves to your own husbands as you do to the Lord. 23 For the husband is the head of the wife as Christ is the head of the church, his body, of which he is the Savior. 24 Now as the church submits to Christ, so also wives should submit to their husbands in everything. 25 Husbands, love your wives, just as Christ loved the church and gave himself up for her 26 to make her holy, cleansing her by the washing with water through the word, 27 and to present her to himself as a radiant church, without stain or wrinkle or any other blemish, but holy and blameless. 28 In this same way, husbands ought to love their wives as their own bodies. He who loves his wife loves himself.
Working together with God requires us to be Christ-centered.
Philippians 2:5-8
5 In your relationships with one another, have the same mindset as Christ Jesus: 6 Who, being in very nature God, did not consider equality with God something to be used to his own advantage; 7 rather, he made himself nothing by taking the very nature of a servant, being made in human likeness. 8 And being found in appearance as a man, he humbled himself by becoming obedient to death— even death on a cross!
Colossians 1:17-20
17 He is before all things, and in him all things hold together. 18 And he is the head of the body, the church; he is the beginning and the firstborn from among the dead, so that in everything he might have the supremacy. 19 For God was pleased to have all his fullness dwell in him, 20 and through him to reconcile to himself all things, whether things on earth or things in heaven, by making peace through his blood, shed on the cross.
Colossians 3:12-14
12 Therefore, as God's chosen people, holy and dearly loved, clothe yourselves with compassion, kindness, humility, gentleness and patience. 13 Bear with each other and forgive one another if any of you has a grievance against someone. Forgive as the Lord forgave you. 14 And over all these virtues put on love, which binds them all together in perfect unity.