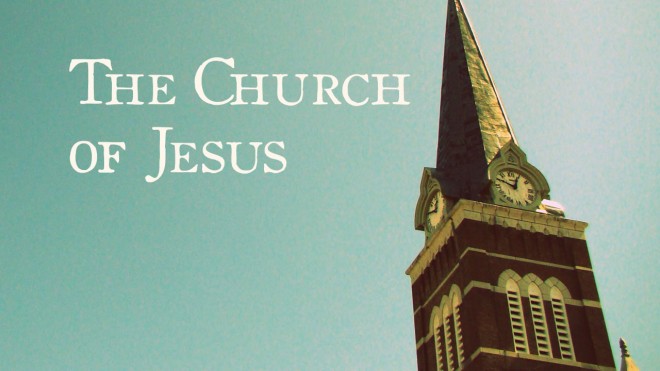 I. What is the church of Jesus?
A. It's God's family
Consequently, you are no longer foreigners and strangers, but fellow citizens with God's people and also members of his household, built on the foundation of the apostles and prophets, with Christ Jesus himself as the chief cornerstone. In him the whole building is joined together and rises to become a holy temple in the Lord. And in him you too are being built together to become a dwelling in which God lives by his Spirit. Ephesians 2:19-22
B. It's Jesus' body
And he is the head of the body, the church; he is the beginning and the firstborn from among the dead, so that in everything he might have the supremacy. Colossians 1:18
For by the grace given me I say to every one of you: Do not think of yourself more highly than you ought, but rather think of yourself with sober judgment, in accordance with the faith God has distributed to each of you. For just as each of us has one body with many members, and these members do not all have the same function, so in Christ we, though many, form one body, and each member belongs to all the others. Romans 12:3-5
C. It's God's building, filled with His Spirit
As you come to him, the living Stone—rejected by humans but chosen by God and precious to him— you also, like living stones, are being built into a spiritual house to be a holy priesthood, offering spiritual sacrifices acceptable to God through Jesus Christ. For in Scripture it says: "See, I lay a stone in Zion, a chosen and precious cornerstone, and the one who trusts in him will never be put to shame." Now to you who believe, this stone is precious. But to those who do not believe, "The stone the builders rejected has become the cornerstone," and, "A stone that causes people to stumble and a rock that makes them fall."They stumble because they disobey the message—which is also what they were destined for. But you are a chosen people, a royal priesthood, a holy nation, God's special possession, that you may declare the praises of him who called you out of darkness into his wonderful light. 1 Peter 2: 4-9
II. What is the church supposed to do?
A. Glorify God
To him who loves us and has freed us from our sins by his blood, and has made us to be a kingdom and priests to serve his God and Father—to him be glory and power forever and ever! Amen. Revelation 1:5b-6
But you are a chosen people, a royal priesthood, a holy nation, God's special possession, that you may declare the praises of him who called you out of darkness into his wonderful light. 1 Peter 2:9
B. Worship God
"Teacher, which is the greatest commandment in the Law?" Jesus replied: " 'Love the Lord your God with all your heart and with all your soul and with all your mind.' This is the first and greatest commandment. And the second is like it: 'Love your neighbor as yourself.' All the Law and the Prophets hang on these two commandments." Matthew 22:36-40
Therefore go and make disciples of all nations, baptizing them in the name of the Father and of the Son and of the Holy Spirit, and teaching them to obey everything I have commanded you. And surely I am with you always, to the very end of the age." Matthew 28:19-20
Jesus said to him, "Away from me, Satan! For it is written: 'Worship the Lord your God, and serve him only.'" Matthew 4:10
Yet a time is coming and has now come when the true worshipers will worship the Father in the Spirit and in truth, for they are the kind of worshipers the Father seeks. God is spirit, and his worshipers must worship in the Spirit and in truth." John 4:23-24
1. Celebration
"I rejoiced with those who said to me, "Let us go to the house of the LORD." Psalm 122:1
2. Inspiration
…but those who hope in the LORD will renew their strength. They will soar on wings like eagles; they will run and not grow weary, they will walk and not be faint. Isaiah 40:31
3. Preparation
So Christ himself gave the apostles, the prophets, the evangelists, the pastors and teachers, to equip his people for works of service, so that the body of Christ may be built up. Ephesians 4:11-12