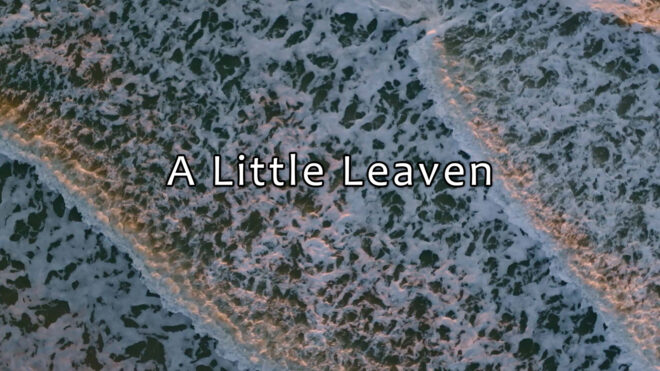 I. Old Leaven
I Corinthians 5:1-8
1 It is actually reported that there is sexual immorality among you, and such sexual immorality as is not even named among the Gentiles—that a man has his father's wife! 2 And you are puffed up, and have not rather mourned, that he who has done this deed might be taken away from among you. 3 For I indeed, as absent in body but present in spirit, have already judged (as though I were present) him who has so done this deed. 4 In the name of our Lord Jesus Christ, when you are gathered together, along with my spirit, with the power of our Lord Jesus Christ, 5 deliver such a one to Satan for the destruction of the flesh, that his spirit may be saved in the day of the Lord Jesus. 6 Your glorying is not good. Do you not know that a little leaven leavens the whole lump? 7 Therefore purge out the old leaven, that you may be a new lump, since you truly are unleavened. For indeed Christ, our Passover, was sacrificed for us. 8 Therefore let us keep the feast, not with old leaven, nor with the leaven of malice and wickedness, but with the unleavened bread of sincerity and truth.
Leviticus 2:11-13
11 'No grain offering which you bring to the Lord shall be made with leaven, for you shall burn no leaven nor any honey in any offering to the Lord made by fire. 12 As for the offering of the firstfruits, you shall offer them to the Lord, but they shall not be burned on the altar for a sweet aroma. 13 And every offering of your grain offering you shall season with salt; you shall not allow the salt of the covenant of your God to be lacking from your grain offering. With all your offerings you shall offer salt.
II. Kingdom Leaven
Matthew 13:33
33 Another parable He spoke to them: "The kingdom of heaven is like leaven, which a woman took and hid in three measures of meal till it was all leavened."
II Corinthians 9:6-15
6 But this I say: He who sows sparingly will also reap sparingly, and he who sows bountifully will also reap bountifully. 7 So let each one give as he purposes in his heart, not grudgingly or of necessity; for God loves a cheerful giver. 8 And God is able to make all grace abound toward you, that you, always having all sufficiency in all things, may have an abundance for every good work. 9 As it is written: "He has dispersed abroad, He has given to the poor; His righteousness endures forever." 10 Now may He who supplies seed to the sower, and bread for food, supply and multiply the seed you have sown and increase the fruits of your righteousness, 11 while you are enriched in everything for all liberality, which causes thanksgiving through us to God. 12 For the administration of this service not only supplies the needs of the saints, but also is abounding through many thanksgivings to God, 13 while, through the proof of this ministry, they glorify God for the obedience of your confession to the gospel of Christ, and for your liberal sharing with them and all men, 14 and by their prayer for you, who long for you because of the exceeding grace of God in you. 15 Thanks be to God for His indescribable gift!