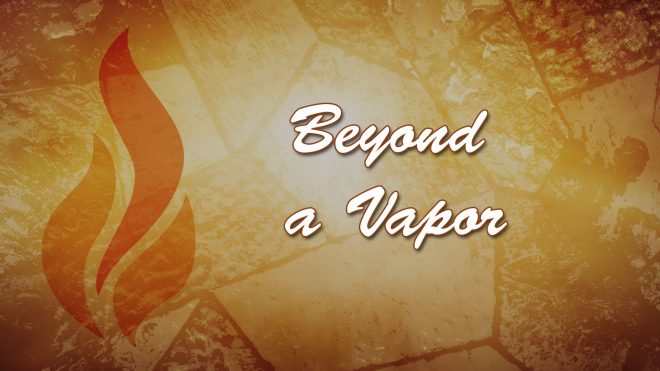 I. What is your life?
James 4:13-17
13 Come now, you who say, "Today or tomorrow [a]we will go to such and such a city, spend a year there, buy and sell, and make a profit"; 14 whereas you do not know what will happen tomorrow. For what is your life? It is even a vapor that appears for a little time and then vanishes away. 15 Instead you ought to say, "If the Lord wills, we shall live and do this or that." 16 But now you boast in your arrogance. All such boasting is evil.
17 Therefore, to him who knows to do good and does not do it, to him it is sin.
II. A change of mind.
Psalm 90:10-12
10 The days of our lives are seventy years;
And if by reason of strength they are eighty years,
Yet their boast is only labor and sorrow;
For it is soon cut off, and we fly away.
11 Who knows the power of Your anger?
For as the fear of You, so is Your wrath.
12 So teach us to number our days,
That we may gain a heart of wisdom.
III. Temporarily satisfied.
Genesis 4:10-17
10 And He said, "What have you done? The voice of your brother's blood cries out to Me from the ground. 11 So now you are cursed from the earth, which has opened its mouth to receive your brother's blood from your hand. 12 When you till the ground, it shall no longer yield its strength to you. A fugitive and a vagabond you shall be on the earth."
13 And Cain said to the Lord, "My [a]punishment is greater than I can bear! 14 Surely You have driven me out this day from the face of the ground; I shall be hidden from Your face; I shall be a fugitive and a vagabond on the earth, and it will happen that anyone who finds me will kill me."15 And the Lord said to him, [b]"Therefore, whoever kills Cain, vengeance shall be taken on him sevenfold." And the Lord set a mark on Cain, lest anyone finding him should kill him.
16 Then Cain went out from the presence of the Lord and dwelt in the land of [c]Nod on the east of Eden. 17 And Cain knew his wife, and she conceived and bore Enoch. And he built a city, and called the name of the city after the name of his son—Enoch.
IV. Who you are.
Ephesians 4:11-16
11 And He Himself gave some to be apostles, some prophets, some evangelists, and some pastors and teachers, 12 for the equipping of the saints for the work of ministry, for the [a]edifying of the body of Christ, 13 till we all come to the unity of the faith and of the knowledge of the Son of God, to a perfect man, to the measure of the stature of the fullness of Christ; 14 that we should no longer be children, tossed to and fro and carried about with every wind of doctrine, by the trickery of men, in the cunning craftiness of deceitful plotting, 15 but, speaking the truth in love, may grow up in all things into Him who is the head—Christ— 16 from whom the whole body, joined and knit together by what every joint supplies, according to the effective working by which every part does its share, causes growth of the body for the edifying of itself in love.
I Peter 4:7-11
7 But the end of all things is at hand; therefore be serious and watchful in your prayers. 8 And above all things have fervent love for one another, for "love will cover a multitude of sins." 9 Be hospitable to one another without grumbling. 10 As each one has received a gift, minister it to one another, as good stewards of the manifold grace of God. 11 If anyone speaks, let him speak as the [a]oracles of God. If anyone ministers, let him do it as with the ability which God supplies, that in all things God may be glorified through Jesus Christ, to whom belong the glory and the [b]dominion forever and ever. Amen.