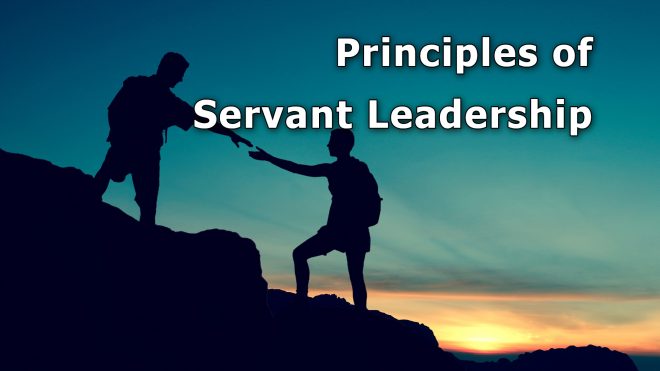 Servant leaders humble themselves and wait for God to exalt them.
Luke 14:7-11
When he noticed how the guests picked the places of honor at the table, he told them this parable: 8 "When someone invites you to a wedding feast, do not take the place of honor, for a person more distinguished than you may have been invited. 9 If so, the host who invited both of you will come and say to you, 'Give this person your seat.' Then, humiliated, you will have to take the least important place. 10 But when you are invited, take the lowest place, so that when your host comes, he will say to you, 'Friend, move up to a better place.' Then you will be honored in the presence of all the other guests. 11 For all those who exalt themselves will be humbled, and those who humble themselves will be exalted."
2. Servant leaders follow Jesus rather than seek position.
Mark 10:35-40
35 Then James and John, the sons of Zebedee, came to him. "Teacher," they said, "we want you to do for us whatever we ask."   36 "What do you want me to do for you?" he asked.   37 They replied, "Let one of us sit at your right and the other at your left in your glory."   38 "You don't know what you are asking," Jesus said. "Can you drink the cup I drink or be baptized with the baptism I am baptized with?"   39 "We can," they answered.   Jesus said to them, "You will drink the cup I drink and be baptized with the baptism I am baptized with, 40 but to sit at my right or left is not for me to grant. These places belong to those for whom they have been prepared."
3. Servant leaders give up personal rights to find greatness in serving others.
Mark 10:41-45
When the ten heard about this, they became indignant with James and John. 42 Jesus called them together and said, "You know that those who are regarded as rulers of the Gentiles lord it over them, and their high officials exercise authority over them. 43 Not so with you. Instead, whoever wants to become great among you must be your servant, 44 and whoever wants to be first must be slave of all. 45 For even the Son of Man did not come to be served, but to serve, and to give his life as a ransom for many."
4. Servant leaders risk serving others because God is in control of their lives.
John 13:3
Jesus knew that the Father had put all things under his power, and that he had come from God and was returning to God;
5. Servant leaders take up the towel of servanthood to meet the needs of others.
John 13:4-11
4so he got up from the meal, took off his outer clothing, and wrapped a towel around his waist. 5 After that, he poured water into a basin and began to wash his disciples' feet, drying them with the towel that was wrapped around him. 6 He came to Simon Peter, who said to him, "Lord, are you going to wash my feet?"  7 Jesus replied, "You do not realize now what I am doing, but later you will understand."  8 "No," said Peter, "you shall never wash my feet."  Jesus answered, "Unless I wash you, you have no part with me."  9 "Then, Lord," Simon Peter replied, "not just my feet but my hands and my head as well!"  10 Jesus answered, "Those who have had a bath need only to wash their feet; their whole body is clean. And you are clean, though not every one of you." 11 For he knew who was going to betray him, and that was why he said not every one was clean.
6. Servant leaders share their authority and responsibility to meet greater needs and multiply their leadership by empowering others to lead. 
Exodus 18:17-23
Moses' father-in-law replied, "What you are doing is not good. 18 You and these people who come to you will only wear yourselves out. The work is too heavy for you; you cannot handle it alone. 19 Listen now to me and I will give you some advice, and may God be with you. You must be the people's representative before God and bring their disputes to him. 20 Teach them his decrees and instructions, and show them the way they are to live and how they are to behave. 21 But select capable men from all the people—men who fear God, trustworthy men who hate dishonest gain—and appoint them as officials over thousands, hundreds, fifties and tens. 22 Have them serve as judges for the people at all times, but have them bring every difficult case to you; the simple cases they can decide themselves. That will make your load lighter, because they will share it with you. 23 If you do this and God so commands, you will be able to stand the strain, and all these people will go home satisfied."