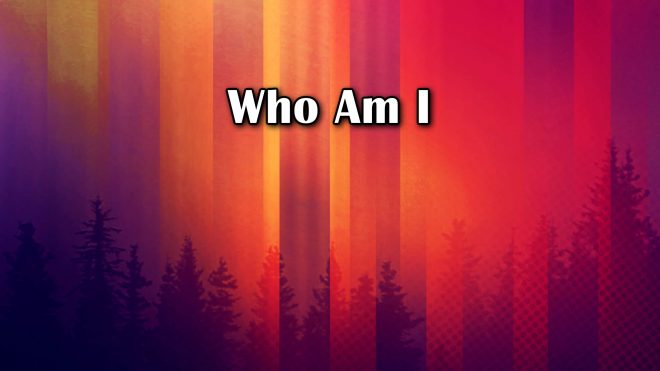 I. I am an original.
13 For You formed my inward parts;
You covered me in my mother's womb.
14 I will praise You, for I am fearfully and wonderfully made;
Marvelous are Your works,
And that my soul knows very well.
15 My frame was not hidden from You,
When I was made in secret,
And skillfully wrought in the lowest parts of the earth.
16 Your eyes saw my substance, being yet unformed.
And in Your book they all were written,
The days fashioned for me,
When as yet there were none of them.
Psalm 139:13-16
12 In the meantime, when an innumerable multitude of people had gathered together, so that they trampled one another, He began to say to His disciples first of all, "Beware of the leaven of the Pharisees, which is hypocrisy. 2 For there is nothing covered that will not be revealed, nor hidden that will not be known. 3 Therefore whatever you have spoken in the dark will be heard in the light, and what you have spoken in the ear in inner rooms will be proclaimed on the housetops.
4 "And I say to you, My friends, do not be afraid of those who kill the body, and after that have no more that they can do. 5 But I will show you whom you should fear: Fear Him who, after He has killed, has power to cast into hell; yes, I say to you, fear Him!
6 "Are not five sparrows sold for two copper coins? And not one of them is forgotten before God. 7 But the very hairs of your head are all numbered. Do not fear therefore; you are of more value than many sparrows.
Luke 12:1-7
II. I am a gift.
3 Behold, children are a heritage from the Lord,
The fruit of the womb is a reward.
Psalm 127:3
10 The thief does not come except to steal, and to kill, and to destroy. I have come that they may have life, and that they may have it more abundantly.
John 10:10
III. I am bought at a price.
20 For you were bought at a price; therefore glorify God in your body and in your spirit, which are God's.
I Corinthians 6:20
2 But your iniquities have separated you from your God;
And your sins have hidden His face from you,
So that He will not hear.
Isaiah 59:2
9 The Lord is not slack concerning His promise, as some count slackness, but is longsuffering toward us, not willing that any should perish but that all should come to repentance.
II Peter 3:9
16 For God so loved the world that He gave His only begotten Son, that whoever believes in Him should not perish but have everlasting life.
John 3:16
IV. I am set apart.
5 "Before I formed you in the womb I knew you;
Before you were born I sanctified you;
I ordained you a prophet to the nations."
Jeremiah 1:5
8 For by grace you have been saved through faith, and that not of yourselves; it is the gift of God, 9 not of works, lest anyone should boast. 10 For we are His workmanship, created in Christ Jesus for good works, which God prepared beforehand that we should walk in them.
Ephesians 2:8-10
III. I am necessary.
18 And I also say to you that you are Peter, and on this rock I will build My church, and the gates of Hades shall not prevail against it. 19 And I will give you the keys of the kingdom of heaven, and whatever you bind on earth will be bound in heaven, and whatever you loose on earth will be loosed in heaven."
Matthew 16:18-19
69 Now Peter sat outside in the courtyard. And a servant girl came to him, saying, "You also were with Jesus of Galilee."
70 But he denied it before them all, saying, "I do not know what you are saying."
71 And when he had gone out to the gateway, another girl saw him and said to those who were there, "This fellow also was with Jesus of Nazareth."
72 But again he denied with an oath, "I do not know the Man!"
73 And a little later those who stood by came up and said to Peter, "Surely you also are one of them, for your speech betrays you."
74 Then he began to curse and swear, saying, "I do not know the Man!"
Immediately a rooster crowed. 75 And Peter remembered the word of Jesus who had said to him, "Before the rooster crows, you will deny Me three times." So he went out and wept bitterly.
Matthew 26:69-75
15 So when they had eaten breakfast, Jesus said to Simon Peter, "Simon, son of Jonah, do you love Me more than these?"
He said to Him, "Yes, Lord; You know that I love You."
He said to him, "Feed My lambs."
16 He said to him again a second time, "Simon, son of Jonah, do you love Me?"
He said to Him, "Yes, Lord; You know that I love You."
He said to him, "Tend My sheep."
17 He said to him the third time, "Simon, son of Jonah, do you love Me?" Peter was grieved because He said to him the third time, "Do you love Me?"
And he said to Him, "Lord, You know all things; You know that I love You."
Jesus said to him, "Feed My sheep.
John 21:15-17
4 There are diversities of gifts, but the same Spirit. 5 There are differences of ministries, but the same Lord. 6 And there are diversities of activities, but it is the same God who works all in all. 7 But the manifestation of the Spirit is given to each one for the profit of all:
I Corinthians 12:4-7
34 Jesus answered them, "Most assuredly, I say to you, whoever commits sin is a slave of sin. 35 And a slave does not abide in the house forever, but a son abides forever. 36 Therefore if the Son makes you free, you shall be free indeed.
John 8:34-36