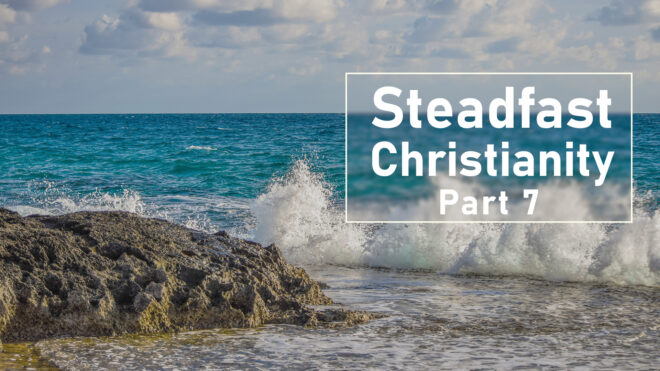 1. Steadfast Christians know the Lord's return will be sudden and unexpected for those that don't know Christ.
1 Thessalonians 5:1-3
Now, brothers and sisters, about times and dates we do not need to write to you, 2 for you know very well that the day of the Lord will come like a thief in the night. 3 While people are saying, "Peace and safety," destruction will come on them suddenly, as labor pains on a pregnant woman, and they will not escape.
Luke 17:26
Just as it was in the days of Noah, so also will it be in the days of the Son of Man.
2. Steadfast Christians live in watchful expectation of Christ's return.
1 Thessalonians 5:4-5
But you, brothers and sisters, are not in darkness so that this day should surprise you like a thief. 5 You are all children of the light and children of the day. We do not belong to the night or to the darkness.
1 Corinthians 15:50-54
I declare to you, brothers and sisters, that flesh and blood cannot inherit the kingdom of God, nor does the perishable inherit the imperishable. 51 Listen, I tell you a mystery: We will not all sleep, but we will all be changed— 52 in a flash, in the twinkling of an eye, at the last trumpet. For the trumpet will sound, the dead will be raised imperishable, and we will be changed. 53 For the perishable must clothe itself with the imperishable, and the mortal with immortality. 54 When the perishable has been clothed with the imperishable, and the mortal with immortality, then the saying that is written will come true: "Death has been swallowed up in victory."
3. Steadfast Christians live a life of godliness in preparation for Christ's coming.
1 Thessalonians 5:6-10
So then, let us not be like others, who are asleep, but let us be awake and sober. 7 For those who sleep, sleep at night, and those who get drunk, get drunk at night. 8 But since we belong to the day, let us be sober, putting on faith and love as a breastplate, and the hope of salvation as a helmet. 9 For God did not appoint us to suffer wrath but to receive salvation through our Lord Jesus Christ. 10 He died for us so that, whether we are awake or asleep, we may live together with him.
Ephesians 6:11-13
Put on the full armor of God, so that you can take your stand against the devil's schemes. 12 For our struggle is not against flesh and blood, but against the rulers, against the authorities, against the powers of this dark world and against the spiritual forces of evil in the heavenly realms. 13 Therefore put on the full armor of God, so that when the day of evil comes, you may be able to stand your ground, and after you have done everything, to stand.
4. Steadfast Christians encourage and serve one another in light of Christ's return.
1 Thessalonians 5:11
Therefore encourage one another and build each other up, just as in fact you are doing.
1 Thessalonians 4:18
Therefore encourage one another with these words.