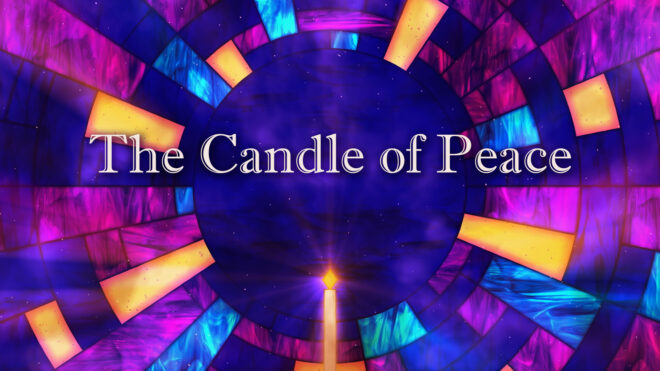 I. The pieces of Peace
Luke 2:1-14
And it came to pass in those days that a decree went out from Caesar Augustus that all the world should be registered. 2 This census first took place while Quirinius was governing Syria. 3 So all went to be registered, everyone to his own city. 4 Joseph also went up from Galilee, out of the city of Nazareth, into Judea, to the city of David, which is called Bethlehem, because he was of the house and lineage of David, 5 to be registered with Mary, his betrothed wife, who was with child. 6 So it was, that while they were there, the days were completed for her to be delivered. 7 And she brought forth her firstborn Son, and wrapped Him in swaddling cloths, and laid Him in a manger, because there was no room for them in the inn. 8 Now there were in the same country shepherds living out in the fields, keeping watch over their flock by night. 9 And behold, an angel of the Lord stood before them, and the glory of the Lord shone around them, and they were greatly afraid. 10 Then the angel said to them, "Do not be afraid, for behold, I bring you good tidings of great joy which will be to all people. 11 For there is born to you this day in the city of David a Savior, who is Christ the Lord. 12 And this will be the sign to you: You will find a Babe wrapped in swaddling cloths, lying in a manger." 13 And suddenly there was with the angel a multitude of the heavenly host praising God and saying: 14 "Glory to God in the highest, And on earth peace, goodwill toward men!"
Luke 19:37-44
37 Then, as He was now drawing near the descent of the Mount of Olives, the whole multitude of the disciples began to rejoice and praise God with a loud voice for all the mighty works they had seen, 38 saying: " 'Blessed is the King who comes in the name of the Lord!' Peace in heaven and glory in the highest!" 39 And some of the Pharisees called to Him from the crowd, "Teacher, rebuke Your disciples." 40 But He answered and said to them, "I tell you that if these should keep silent, the stones would immediately cry out." 41 Now as He drew near, He saw the city and wept over it, 42 saying, "If you had known, even you, especially in this your day, the things that make for your peace! But now they are hidden from your eyes. 43 For days will come upon you when your enemies will build an embankment around you, surround you and close you in on every side, 44 and level you, and your children within you, to the ground; and they will not leave in you one stone upon another, because you did not know the time of your visitation."
II. The price of Peace
Romans 16:17-20
17 Now I urge you, brethren, note those who cause divisions and offenses, contrary to the doctrine which you learned, and avoid them. 18 For those who are such do not serve our Lord Jesus Christ, but their own belly, and by smooth words and flattering speech deceive the hearts of the simple. 19 For your obedience has become known to all. Therefore I am glad on your behalf; but I want you to be wise in what is good, and simple concerning evil. 20 And the God of peace will crush Satan under your feet shortly. The grace of our Lord Jesus Christ be with you. Amen.
Isaiah 57:16-21
16 For I will not contend forever, Nor will I always be angry; For the spirit would fail before Me, And the souls which I have made. 17 For the iniquity of his covetousness I was angry and struck him; I hid and was angry, And he went on backsliding in the way of his heart. 18 I have seen his ways, and will heal him; I will also lead him, And restore comforts to him And to his mourners. 19 "I create the fruit of the lips: Peace, peace to him who is far off and to him who is near," Says the Lord, "And I will heal him." 20 But the wicked are like the troubled sea, When it cannot rest, Whose waters cast up mire and dirt. 21 "There is no peace," Says my God, "for the wicked."
III. The Prince of Peace
John 14:22-27
22 Judas (not Iscariot) said to Him, "Lord, how is it that You will manifest Yourself to us, and not to the world?" 23 Jesus answered and said to him, "If anyone loves Me, he will keep My word; and My Father will love him, and We will come to him and make Our home with him. 24 He who does not love Me does not keep My words; and the word which you hear is not Mine but the Father's who sent Me. 25 "These things I have spoken to you while being present with you. 26 But the Helper, the Holy Spirit, whom the Father will send in My name, He will teach you all things, and bring to your remembrance all things that I said to you. 27 Peace I leave with you, My peace I give to you; not as the world gives do I give to you. Let not your heart be troubled, neither let it be afraid.
Ephesians 2:11-18
11 Therefore remember that you, once Gentiles in the flesh—who are called Uncircumcision by what is called the Circumcision made in the flesh by hands— 12 that at that time you were without Christ, being aliens from the commonwealth of Israel and strangers from the covenants of promise, having no hope and without God in the world. 13 But now in Christ Jesus you who once were far off have been brought near by the blood of Christ. 14 For He Himself is our peace, who has made both one, and has broken down the middle wall of separation, 15 having abolished in His flesh the enmity, that is, the law of commandments contained in ordinances, so as to create in Himself one new man from the two, thus making peace, 16 and that He might reconcile them both to God in one body through the cross, thereby putting to death the enmity. 17 And He came and preached peace to you who were afar off and to those who were near. 18 For through Him we both have access by one Spirit to the Father.