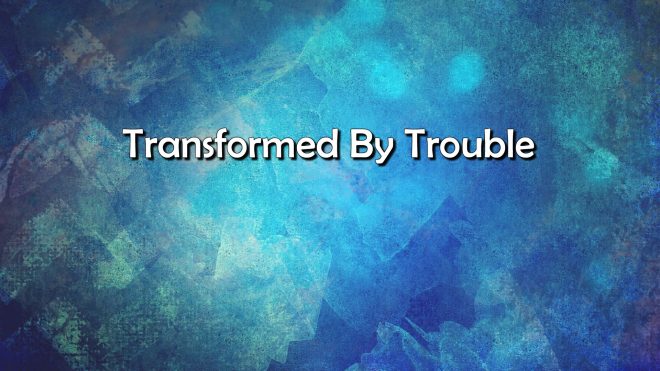 1. Transformed by trouble.
John 16:33
"I have told you these things, so that in me you may have peace. In this world you will have trouble. But take heart! I have overcome the world."
Job 5:7
Yet man is born to trouble as surely as sparks fly upward.
Job 14:1
Mortals, born of woman, are of few days and full of trouble.
Psalm 46:1
God is our refuge and strength, an ever-present help in trouble.
2. Transformed by trials.
1 Peter 4:12
Dear friends, do not be surprised at the fiery ordeal that has come on you to test you, as though something strange were happening to you.
1 Peter 1:7
These have come so that the proven genuineness of your faith—of greater worth than gold, which perishes even though refined by fire—may result in praise, glory and honor when Jesus Christ is revealed.
James 1:2-4
Consider it pure joy, my brothers and sisters, whenever you face trials of many kinds, because you know that the testing of your faith produces perseverance. Let perseverance finish its work so that you may be mature and complete, not lacking anything.
James 1:12
Blessed is the one who perseveres under trial because, having stood the test, that person will receive the crown of life that the Lord has promised to those who love him.
3. Transformed by temptation.
James 1:13-14
When tempted, no one should say, "God is tempting me." For God cannot be tempted by evil, nor does he tempt anyone;but each person is tempted when they are dragged away by their own evil desire and enticed.
1 Corinthians 10:13
No temptation has overtaken you except what is common to mankind. And God is faithful; he will not let you be tempted beyond what you can bear. But when you are tempted, he will also provide a way out so that you can endure it.
4. Transformed by testing.
Hebrews 11:17
By faith Abraham, when God tested him, offered Isaac as a sacrifice. He who had embraced the promises was about to sacrifice his one and only son,
Genesis 22:1-2
Some time later God tested Abraham. He said to him, "Abraham!" "Here I am," he replied. Then God said, "Take your son, your only son, whom you love—Isaac and go to the region of Moriah. Sacrifice him there as a burnt offering on a mountain I will show you."
Job 23:10
But he knows the way that I take; when he has tested me, I will come forth as gold.
Romans 12:12-14
Be joyful in hope, patient in affliction, faithful in prayer. Share with the Lord's people who are in need. Practice hospitality.Bless those who persecute you; bless and do not curse.
Romans 5:3
Not only so, but we also glory in our sufferings, because we know that suffering produces perseverance;
1 Peter 5:10
And the God of all grace, who called you to his eternal glory in Christ, after you have suffered a little while, will himself restore you and make you strong, firm and steadfast.
Romans 8:28
And we know that in all things God works for the good of those who love him, who have been called according to his purpose.
2 Corinthians 4:17
For our light and momentary troubles are achieving for us an eternal glory that far outweighs them all.